POSCO, partners to develop LCO2 carrier
South Korean steel-making company POSCO has partnered up with local shipbuilding giant Korea Shipbuilding & Offshore Engineering Co. (KSOE) and others to develop a liquefied carbon dioxide (CO2) carrier.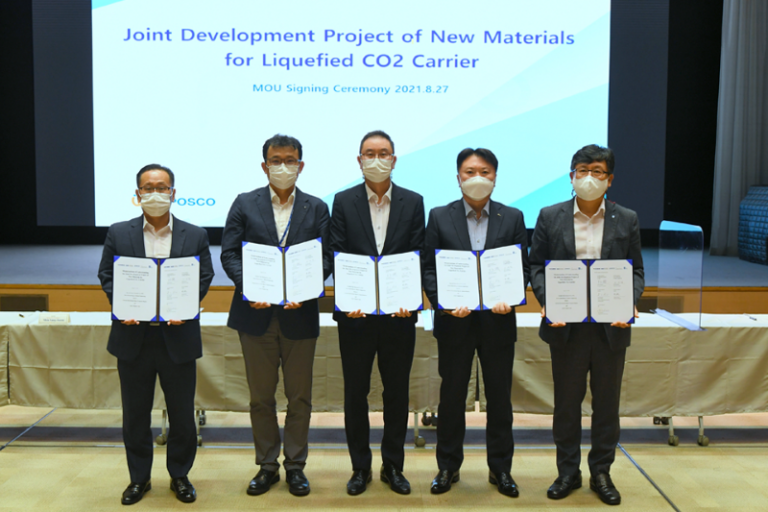 On 27 August, a joint technology development agreement was signed between POSCO, KSOE, KSOE's unit Hyundai Mipo Dockyard (HMD), classification society Lloyd's register and the Liberian Registry.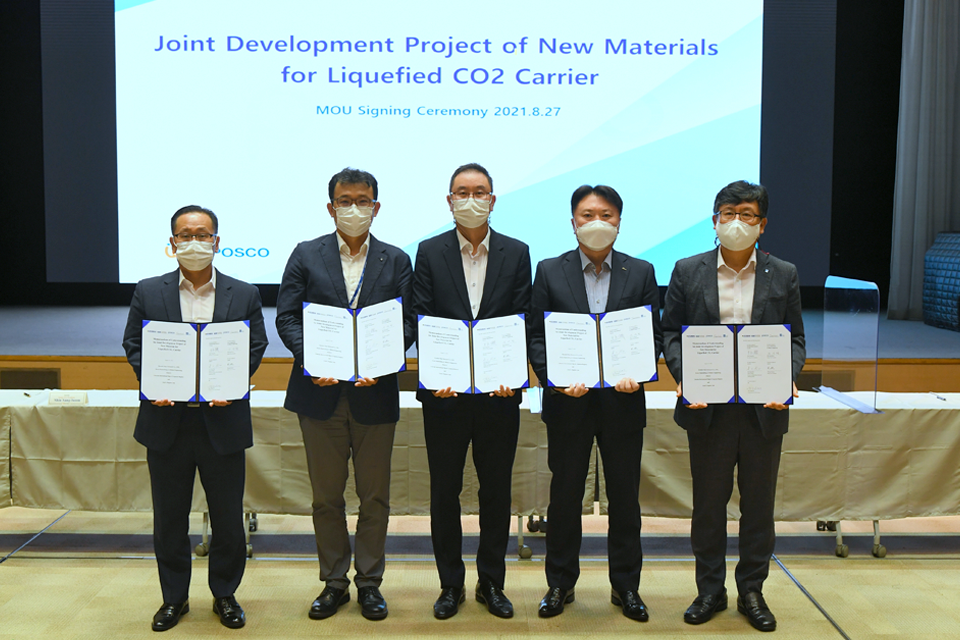 Under the deal, the partners aim to develop a large liquefied carbon dioxide carrier of over 20,000 cbm by 2025.
Specifically, the project will be implemented in several key steps. First, POSCO will develop steel materials and technologies for storage tanks, which are the core of large liquefied carbon dioxide carriers, and HMD and KSOE will develop welding technologies necessary for the design and construction of the carrier.
In addition, Lloyd's Register is in charge of technical review and related regulations for steel certification and storage tank design/manufacturing, and the Liberian Registry is in charge of establishing ship registration regulations and all procedures for flag state approval.
With the global trend of carbon neutrality and the transition to a hydrogen society, the need for technology related to the capture, utilization and storage of carbon from industrial activities is growing. According to a report by the International Energy Agency (IEA) in 2020, up to 40 million tons of carbon dioxide is captured annually, and most of it is permanently stored in geological formations or re-injected into oil wells to improve oil recovery. In particular, it is estimated that by 2070, CCUS technology will account for 15% of the total global carbon dioxide reduction, reaching about 10 billion tons per year. Therefore, there is an urgent need to develop a large liquefied carbon dioxide carrier to transport carbon dioxide to storage facilities.
"This joint development is very meaningful because decarbonization technology innovation is also required in the shipbuilding and shipping sector to reduce global greenhouse gas emissions," Kim Young-doo, vice president of technology for Far East Asia at Lloyd's Register, said.
"The cooperation in the development of a liquid carbon dioxide carrier is a very important project in the global maritime industry, and it is meaningful because it can create synergy with the … steelmakers and shipyards," Alfonso Castillero, Chief Operating Officer at the Liberian Registry, commented.
Last week, Japan's shipbuilding company Mitsubishi Shipbuilding and French energy major TotalEnergies also joined forces to carry out a feasibility study for the development of an LCO2 carrier.
The project is expected to make a significant contribution to the establishment of a CO2 ecosystem in the CO2 transport sector.