Predictive Maintenance-Share Information for Knowledge to Grow
Maritime maintenance is changing fast. The industry is moving away from costly forms of traditional maintenance towards smarter condition-based maintenance, otherwise known as 'predictive maintenance'.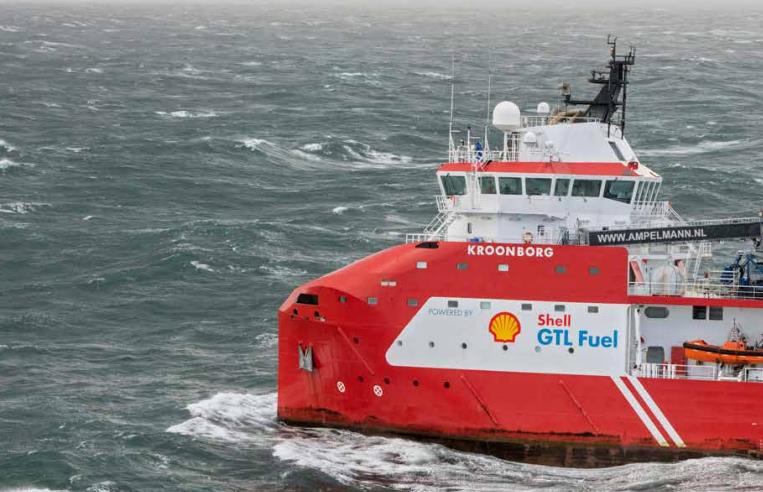 This development is facilitated by the emergence of new technologies involving the Internet of Things, improved analysis and storage of Big Data, and the fall in price of increasingly powerful sensor components.
With the impressive ambition to reach the point when ship and equipment maintenance can be 100 per cent predictable, Fieldlab SMASH is working with several maritime companies in so-called 'Living Labs'. The potential benefits of reduced maintenance costs and increased uptime show that, both economically and logistically, there is a lot to be gained from this area of research.
To learn more about this exciting subject, Maritime Holland spoke to Roel Groenewold, Project Manager at Fieldlab SMASH, and Maarten ten Wolde, Technical Manager with Wagenborg Offshore.
Before we start talking about the research carried out at Fieldlab SMASH, could you first give us an introduction to maritime maintenance?
Groenewold: "Well, there are currently three different types of maintenance. First of all, there is preventative maintenance. This is, by definition, always carried out too early, which is never good because it brings extra unnecessary costs. And secondly, when preventative maintenance is carried out too late, there is corrective maintenance. This involves damages and repairs, together with the associated costs. And then there is maintenance that can take place during vessel modifications."
And how will predictive maintenance work?
Ten Wolde: "We normally plan our maintenance based on the number of operational hours or a set length of time. Every two months or after 20,000 hours, for example. But with predictive maintenance, you use Big Data to make correlations and links between various trends. And then, based on these trends, you can predict when maintenance is required. So, whereas planned maintenance is just done at a given moment, predictive maintenance is carried out at the correct moment – and this could be earlier or later than you had planned. This gives not only cost advantages, but also advantages in terms of the availability of your assets. This is especially important when you are looking at offshore vessels with particularly high day rates. You want to prevent any unnecessary downtime because this costs a lot of money."
Groenewold: "There will be other benefits too – ones that relate to issues like crew planning, supplies and logistics. If you can predict when you need to carry out maintenance, you not only prevent damages but you are in a much better position to organise your supplies and personnel. Predictive maintenance can be seen as a new way of looking at logistics and supplies. It will be an important tool that allows vessels to do their work with much less downtime – the next generation of maintenance."
How is Fieldlab SMASH involved?
Groenewold: "Fieldlab SMASH is an initiative of Innovation Quarter [a economic development agency in the Dutch province of South Holland] in cooperation with World Class Maintenance. The idea is that companies cooperate towards data-based research about predictive maintenance based on equal terms and knowledge sharing. We work with the motto of 'when you share information, knowledge is the only thing that grows'.
The aim is to increase the awareness about, and show the benefits of predictive maintenance to more and more companies within the maritime industry. We are working with a number of companies and organisations, including the Dutch Royal Navy, Boskalis, Royal IHC, Wärtsilä, Kotug and Wagenborg Offshore, to share ideas, set up pilot projects and identify which angles of research to address."
And what is Wagenborg Offshore's experience of Fieldlab SMASH?
Ten Wolde: "Cooperation between different maritime companies on an equal footing is quite new and I am pleasantly surprised at how well the Fieldlab SMASH pilot projects are working. The way that the Fieldlab works is that there is a common goal, and this means less attention is spent on personal goals. We are working with companies that were previously unknown to us and that makes things very interesting. We are using it on the Kroonborg to anticipate when maintenance needs to take place or to postpone maintenance if possible."
What technologies are required for analysis of big data?
Ten Wolde: "The ship must be able to make the data available – and nowadays most ships are able to do this. However, there are many choices and decisions that need to be made when dealing with data handling. One of the main questions that we are addressing with the Kroonborg is how often to collect the data – the sample frequency. This varies between different sets of data because of different rates of change. And then the next step is to identify how you get the data onshore because transport of data is not cheap. When you have the data, you need to decide what to do with it – this is where algorithm development comes in. You can see that there are numerous steps; all of which are relatively new and unknown for the maritime industry. On-board installations are becoming more complex with more computers and more electronics. This demands more effort and input from the crews."
Is this a challenging process for the maritime sector?
Groenewold: "We are seeing this throughout the industry – a new way of working will always bring a variety of questions and challenges to personnel. Therefore the diversity of people working in the maritime industry is going to increase with the influx of algorithm specialists and Big Data specialists. This is a very positive step. Also, analysing Big Data can produce some fantastic results in terms of predictive maintenance. The current pilot projects are focused on specific components of a vessel. So we are in a process of learning to understand and interpret the data. And we are also learning to identify links and trends between datasets and specific equipment events. This leads to some very interesting discussions. However, looking at the experiences from other industries that are more advanced with predictive maintenance, we are looking at a reduction of maintenance costs of between 20 and 30 per cent."
What are Wagenborg Offshore's goals for the rest of the project?
Ten Wolde: "On the Kroonborg we have completed the first phase of data collection and sample frequency determination. We now have various aims. To progress with identifying correlations within the data, for example. And also to expand the amount of equipment on which data is collected. To this end, our goal is to collect data from the whole propulsion system from the motor all the way to the propeller. And finally, because we work in the offshore industry, with the associated high day costs, it is of great importance to guarantee availability and maximise up time. This will bring 'by-product' benefits of reducing maintenance and personnel costs. Looking further ahead, the human factor is something that will need more attention – involving training of onshore and on-board personnel."
And how does Fieldlab SMASH see the 'Living Labs' developing?
Groenewold: "It is going to be very important to be able to show that the pilot products yield successful and worthwhile results. This will help convince the maritime industry that this is the new way to deal with maintenance. And we are very positive that this is going to happen because the participating companies are working towards a common goal with relationships between parties based on trust and communication. Furthermore, we have very well-defined research aims in order to produce understandable results that will increase the awareness of the benefits of predictive maintenance. This is important because some parts of the research are quite abstract, and therefore validation of the results and any conclusions that we make must be easily translatable to the maritime sector. And finally, the support that we receive from World Class Maintenance and participants like Wagenborg Offshore is very positive, which makes us optimistic."
Tom Scott
Maritime Holland