Premier sanctions Southern North Sea gas development
The development of the Premier-operated Tolmount Main gas field, located in the Southern North Sea, has been sanctioned by the joint venture and infrastructure partners.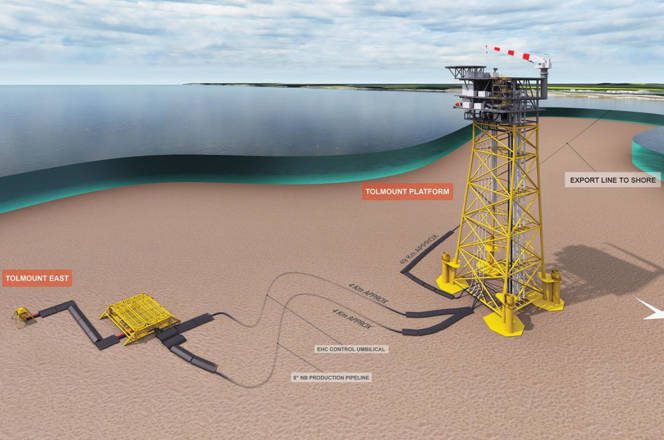 The partners in the Tolmount gas field are Premier (50 per cent, operator) and Dana Petroleum (50 per cent).
The sanction was preceded by the approval of the development by Premier as the operator back in June.
Announcing the sanction of the project, Premier said on Monday that the Tolmount Main gas field is expected to produce around 500 Bcf of gas (96 mmboe) with peak production of up to 300 mmscfd (58 kboepd).
According to the company, the project entails a minimal facilities platform exporting gas to shore via a new gas pipeline. The concept was selected in February 2017.
Contracts 
The EPCIC (Engineering, Procurement, Construction, Installation & Commissioning) contract for the platform has been awarded to Rosetti Marino.
Centrica's Easington terminal has been selected as the host facility and Saipem as the pipeline EPCI contractor.
Selection of the rig contractor for the four development wells is expected imminently, Premier stated.
Premier's share of the capex required to develop this large gas field is estimated at $120 million comprising project management and development drilling costs.
The infrastructure joint venture between Humber Gathering System Limited (a member of the CATS Management Limited group of companies) and Dana Petroleum will own and pay for the platform and pipeline capex as well as pay for upgrades to the onshore terminal. In return, Premier will pay a tariff for the transportation and processing of Tolmount gas through the infrastructure.
The Tolmount Main project now moves into the execution phase with construction works scheduled to start later this year. First Gas is targeted for 4Q 2020.
Tony Durrant, Premier CEO, commented: "The sanction of our high return Tolmount project marks a major milestone for Premier and underpins our medium term UK production profile. Tolmount is one of the largest undeveloped gas discoveries in the Southern North Sea and is, in barrel of oil equivalent terms, similar in size to our Catcher project.
"We have also secured an innovative financing structure for the project which minimizes our capital expenditure whilst maintaining our exposure to the upside in the Greater Tolmount Area."