Putin bans oil sales to countries abiding by the price cap
Russian President Vladimir Putin signed an Executive Order on Tuesday, December 27, banning the sale of oil and oil products to foreign companies and individuals abiding by the price cap imposed by the Westrn nations.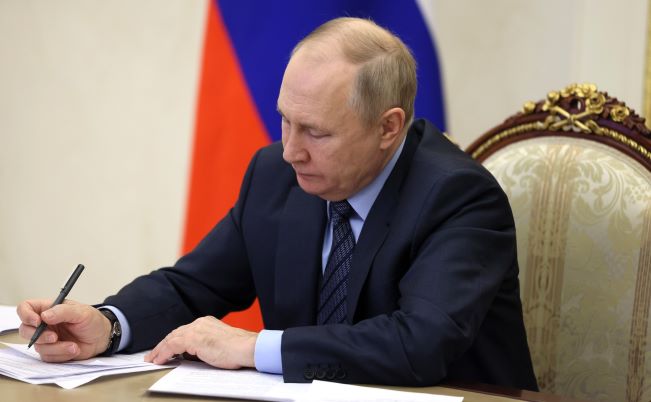 To remind, at the beginning of December, the Group of Seven (G7) nations and Australia joined the EU in setting a $60-a-barrel cap on Russian seaborne crude oil. The move has been described as a way of cutting Russia's financial power in the wake of its aggression against Ukraine.
The coalition said that the cap would also prevent a spike in global oil prices after an EU embargo on Russian crude takes effect on Dec. 5.
"The Executive Order has established that in connection with the ban imposed by the United States, and other foreign countries that sided with them, on the transport of Russian oil and oil products and related services, which is applied if the price of Russian oil and oil products is above the limit established by said foreign states (price limit mechanism), Russia bans the sale of oil and oil products to foreign companies and individuals if the contracts on these sales include the use of this mechanism directly or indirectly," the order reads.
"The established ban applies to all stages of sales up to and including the final buyer."
The executive order enters into force on February 1, 2023 and will be valid until July 1, 2023.
The price cap is close to the current price of Russian oil, and is not clear whether it would actually have a financial impact on Moscow as originally intended by the Western powers. What is more, Russian oil has been sold even below $50 per barrel before the cap's entrance into force.
The countermeasure by Putin comes on the back of a major backlog of oil tankers at the Turkish straits, as Turkey insisted on evidence that ships carrying the oil had proper insurance to comply with the EU sanctions. The logjam saw dozens of tankers stuck in the straits pending clearance from Turkey to sail into the Mediterranean.
According to Bloomberg, the sanctions from the Group of Seven caused a collapse of Russia's seaborne crude shipments halving tanker exports in the first week after the sanctions hit. The plunge was ascribed to a shortage of tanker owners willing to carry Russia's crude.