Qair inks first floating solar power purchase agreement in the Seychelles
Independent renewable power producer Qair and the Republic of Seychelles' Public Utilities Corporation (PUC) have signed a power purchase agreement (PPA) for a 5.8MWp floating solar project, the first in the history of the Seychelles.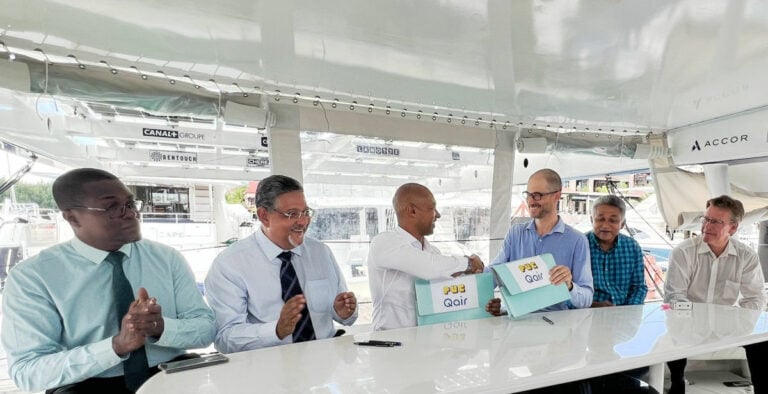 This historic signing took place on Energy Observer, the first zero-emission vessel to be self-sufficient in energy, serving as a laboratory for ecological transition and advocating for renewable energy.
This signing concludes the negotiations that began in November 2019 when Qair won the tender for the development of a floating solar project in the Republic of Seychelles.
Under the PPA, Qair will develop, build and operate on the lagoon of Providence a 5.8MWp floating solar plant to supply renewable energy to the Seychelles grid. The construction is scheduled to start in the fourth quarter of 2023, according to the company.
The project is expected to not only contribute to the country's energy security, but also to create job opportunities and boost economic growth.
The signing of the PPA on Energy Observer, a vessel that showcases the potential of renewable energy, underscores Seychelles' commitment to sustainability and its leadership in the fight against climate change.
Olivier Gaering, Indian Ocean Region director at Qair, said: "We are thrilled to be working with the Seychelles government and contribute to the Republic's transition to a low-carbon economy. The floating solar plant is a game-changer for Seychelles, providing a reliable source of renewable energy and contributing to the country's sustainable development. We are especially proud to sign the first Seychelles PPA for a floating solar plant on Energy Observer, our partner zero-emission vessel."
The floating solar plant to be developed by Qair is a key part of Seychelles' energy transition and a significant milestone in the country's efforts to achieve carbon neutrality.
Subscribe and follow
Offshore Energy – Marine Energy LinkedIn