SBM Offshore and Petrobras ink letter of intent for new Mero FPSO as partners take FID
Dutch FPSO provider SBM Offshore has signed a letter of intent with Petrobras for a 22.5 years lease and operate contracts of FPSO Alexandre de Gusmão for deployment in Brazilian waters. The Libra consortium partners have also made a final investment decision (FID) for the project.
The unit will be deployed at the Mero field in the Santos Basin offshore Brazil, approximately 160 kilometres from Arraial do Cabo, Rio de Janeiro state, SBM said on Tuesday.
The Libra block, where the Mero field is located, is under a Production Sharing Agreement to a consortium comprised of Petrobras with 40 per cent, Shell with 20 per cent, Total Energies with 20 per cent, CNODC and CNOOC with 10 per cent each and the state-owned company Pré-Sal Petróleo as manager of the Production Sharing Contract.
The FPSO will be the fourth platform in the definitive system for the Mero field.
SBM Offshore will design and construct the FPSO Alexandre de Gusmão using its Fast4Ward program. SBM Offshore's fifth MPF hull has been allocated to this project. Completion of the FPSO is expected in 2024 and production is scheduled to start in 2025.
To remind, SBM Offshore ordered its fourth and fifth hulls under the company's Fast4Ward program back in December 2019. The hulls were ordered from Shanghai Waigaoqiao Shipbuilding and Offshore (SWS) and China Merchants Industry Holdings (CMIH).
The Alexandre de Gusmão FPSO will be designed to produce 180,000 barrels of oil per day and treat 12 million standard cubic meters of gas per day. Furthermore, the unit will have a water injection capacity of 250,000 barrels per day and a minimum storage capacity of 1.4 million barrels of crude oil. The unit will be spread moored in approximately 1,900 meters of water depth.
The project foresees the interconnection of 15 wells to the FPSO, 8 of which are oil producers, 6 water and gas injectors, and 1 convertible well from producer to gas injector, through a subsea infrastructure composed of rigid production and injection pipelines and flexible service pipelines.
Bruno Chabas, CEO of SBM Offshore, commented: "The signing of this Letter of Intent is the second major project award this year by our key client Petrobras".
FID on Mero-4 FPSO
Also on Tuesday, two of Petrobras partners in the consortium, Shell and TotalEnergies, said that the consortium has taken a final investment decision on Phase 4 on the giant Mero field development.
Final investment decisions were previously taken for the Mero 1, Mero 2, and Mero 3 FPSOs. Each unit has a daily operational capacity rate of 180,000 barrels of oil/day. The Pioneiro de Libra FPSO (50,000 barrels of oil/day) has been producing at Mero since 2017.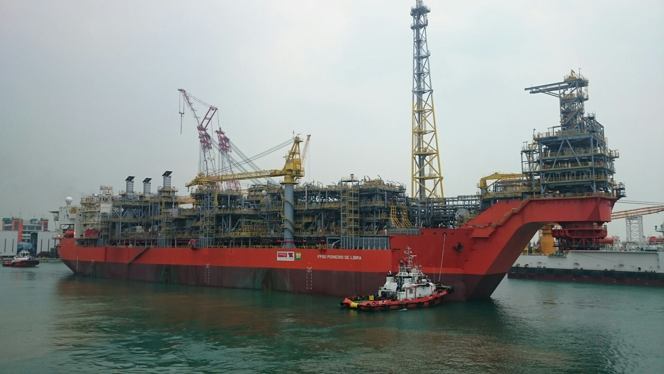 "The decision to launch Mero 4 marks the last milestone in the large-scale development of the Mero oil resources. This giant project is in line with TotalEnergies' growth strategy in Brazil which is to produce oil at a competitive cost out of world-class fields while limiting CO₂ emissions to a strict minimum", said Arnaud Breuillac, President Exploration & Production at TotalEnergies.
SBM Offshore and Petrobras in July also signed contracts for the 26.25 years lease and operation of FPSO Almirante Tamandaré, the largest oil production unit to operate offshore Brazil.
FPSO Almirante Tamandaré will be deployed at the Búzios field in the Santos Basin approximately 180 kilometres offshore Rio de Janeiro in Brazil.