SBM Offshore riding the FPSO renaissance wave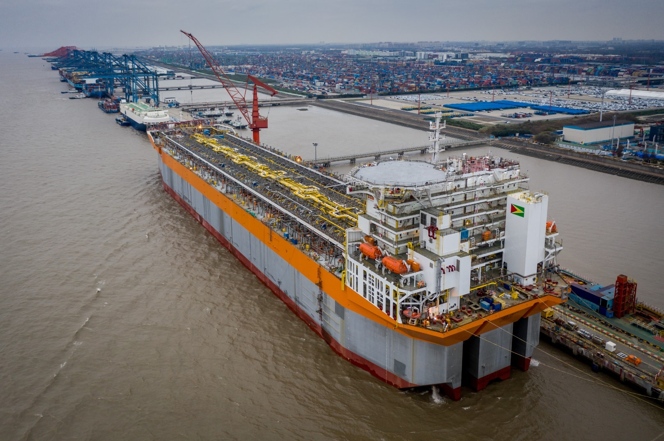 In surfing, reading the environment and anticipating a wave from a small lump on the horizon can be difficult, but rewarding.
This is what SBM Offshore, a Dutch-based FPSO industry specialist which has been building floating production units for 60 years, had done when after a rather dry period for FPSO orders it ordered an FPSO hull from China's SWS Shipyard in July 2017.
FPSO suppliers usually order a hull when they have a contract for it secured, however, this FPSO hull, the first under SBM Offshore's trademark Fast4Ward program was ordered on speculation, without a firm contract in hand.
SBM Offshore's Fast4Ward program includes a generic hull based on Brazilian and West African environmental conditions, with the versatility to receive various large topsides with spread or turret mooring configurations.
The FPSO developed this way, SBM has said, can speed up delivery of an FPSO by up to 12 months. For a typical project, this can boost value for a client by more than US$0.5 billion, materially lowering project break-even prices, SBM Offshore has said.
This might be key to securing new contracts, as Rystad Energy recently said that while the future of the FPSO industry now looks bright after a few years of downturn, a key challenge going forward would be project execution and cost control.
From one hull to five in 2 years
Announcing its first Fast4Ward hull order on speculation in 2017, SBM Offshore said it was cautiously optimistic about the improvement in the FPSO market, and that it believed that Fast4Ward would give it a major competitive advantage once the FPSO market picks up, as it will fast-track projects compared with the industry average and can cut CAPEX and OPEX costs while providing clients earlier access to oil.
Fast forward (PUN INTENDED) to the end of 2019, SBM Offshore's optimism has firmed up, as the company recently ordered its fourth and fifth Fast4Ward hulls – also in China, and according to a recent report by Rystad Energy, there may be a need for many more FPSOs in the coming years. More here.
The firm contract for the first Fast4Ward FPSO ordered in 2017, was secured in May 2019, and while the FPSO has been developed for Brazilian and West African environmental conditions, it won't be deployed in either of the two regions. ExxonMobil will use it for its Liza 2 development in Guyana.
Come June 2019, SBM Offshore signed an LoI with Petrobras for the supply of an FPSO for the Mero 2 development in Brazil.
In August, construction began on the third Fast4Ward hull, and in December 2019, SBM Offshore ordered two more units in China, meaning SBM Offshore currently has five hulls on order,.
"I've been doing a few of these over the years, and this is quite historic, to be doing five FPSO hulls simultaneously. This has never been done before, by far," SBM Offshore's Managing Director Strategic Growth, Bernard van Leggelo, has recently said.
This is especially the case when one takes into consideration that the company has been ordering them without a firm contract in place.
Worth noting, the firm contract for the Mero 2 FPSO was signed earlier in December 2019 following an LoI with Petrobras. The hull is being built by China Merchants Industry Holdings (CMIH) shipyard in China, as the FPSO is set to be delivered in 2022.
First hull ready to sail away
If you read Offshore Energy Today, you could've read about each of these five FPSO hull orders, and you could've noticed that we've probably overused the artist's impression of the Fast4Ward FPSO hulls showing three orange-box type units with various mooring types.
We did this simply because there were no photos to share as the first hull was still under construction. However, Offshore Energy Today was recently in China aboard the Liza Unity FPSO hull and now we have photos.
---
---
The hull of the first MPF – the Liza Unity – is basically fully complete, as the SWS workers had been finishing up painting works on it during our December visit.
The Liza Unity FPSO hull is scheduled to leave the SWS Shanghai shipyard in January 2020, on its way to Singapore where the topsides will be mounted aboard ahead of the final sail away to Guyana. This will be SBM Offshore's largest FPSO so far.
It is designed to produce 220,000 barrels of oil per day, to have associated gas treatment capacity of 400 million cubic feet per day and water injection capacity of 250,000 barrels per day.
The FPSO will be spread moored in a water depth of about 1,600 meters and will be able to store around 2 million barrels of crude oil.
Not just an orange box
While the first hull under the Fast4Ward concept was ordered in 2017, the thinking about the program began five years ago when the company started pondering how it could do better, bring ways of working to new levels, and to make the business less dependent on market cycles.
During our visit to China, we spoke with Bernard van Leggelo, SBM Offshore's Managing Director of Strategic Growth to learn more about Fast4Ward.
"There is a lot of noise in the market that Fast4Ward is just an orange box, but the orange box is just one element of the philosophy and approach of delivery faster to the client."
It may not be "just an orange box" but it is worth stressing that Fast4Ward's box shape has its benefits over the traditional VLCC shape FPSO with a bow.
According to SBM Offshore, the current box-shaped hull of the Fast4Ward hulls, rather than a ship-shaped one, provides extra deck space for topside modules, allows for lower modules, less congestion, less piping, is safer to operate as you don't have to climb six stairs up and six stairs down to the work, and is quicker to build.
Bow shape means less deck space. Given the fact that FPSO doesn't have to move fast as it will spend most of its life on one or two locations, there's no need for a bow, and no bow shape on Fast4Ward means 13 percent extra deck space vs traditional FPSOs converted from VLCCs.
This further allows for more space on hull facilitates lowering the modules for better access for maintenance, while improving safety.
Standard FPSOs have been built in the past, but "every one of those companies went bankrupt," Van Leggelo said.
So, why is SBM Offshore different?
"The key difference is looking at the standardization of the individual building blocks while maintaining flexibility as FPSO at the end is still quite a custom piece," Van Leggelo said.
So, with the MPF hull being one piece of the puzzle, the other piece SBM Offshore highlights as important is its catalog of the topsides and all the other pieces such as flare tower, helideck, cranes. It currently has about 70 entries for clients to choose from.
Van Leggelo said: "The clients have seen the benefits of our standards and of our flexibility. We can move faster without the constraints of moving fast. Because if you make a standard FPSO, as people tried 15 years ago, allegedly it's ready to go but it never fits what the client wants. Combined with all the experience we've had with the units, the clients really start to see a big value proposition of Fast4Ward."
What will prevent any other FPSO supplier from doing a similar thing?
"Well, they're four years behind us, Paula Farquharson-Blengino SBM Offshore's Press Offices says, smiling, and according to a recent report by the FPSO Network, track record is one of the most important things when it comes to ordering an FPSO.
---
Spotted a typo? Have something more to add to the story? Maybe a nice photo? Contact our editorial team via email.
Also, if you're interested in showcasing your company, product, or technology on Offshore Energy Today, please contact us via our advertising form where you can also see our media kit.