Seaway 7 strikes again offshore Taiwan
Seaway 7 has been awarded a contract for the transport and installation of cables on the Hai Long offshore wind farms in Taiwan.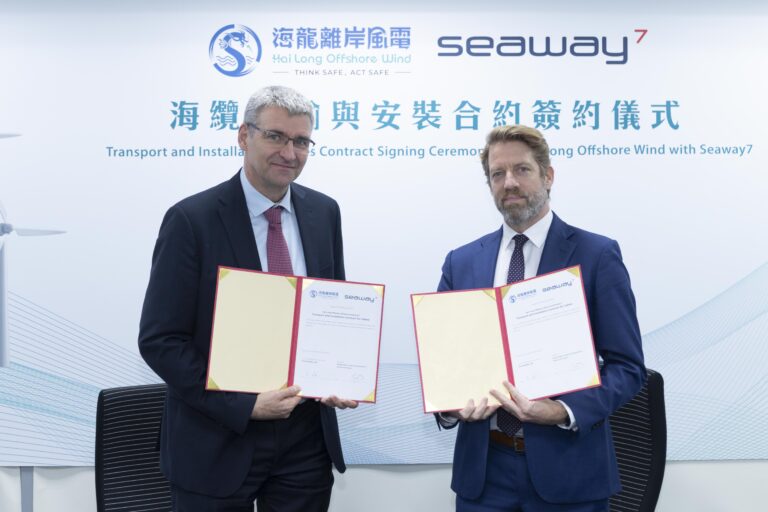 Under the contract, Seaway 7 will be responsible for the transport and installation of inter-array cables, the respective cable protection systems, and four export cables.
The export cables will connect the offshore substation to the onshore substation using horizontal directional drilling (HDD).
The cable installation will be carried out by the cable-laying vessel Maersk Connector, which is on long-term charter to Seaway 7 – expanding the capacity of the company's own cable-laying fleet.
Execution of the scope will be led from Seaway 7's Taipei office in Taiwan.
Tim Kittelhake, CEO of Hai Long Project said that the HDD installation works will commence in 2023 with full offshore cable campaigns starting in 2024 and continuing into 2025.
This contract follows the contractual signing which was announced to the market last week on 14 February.
In July 2022, the Greek cable manufacturer, Hellenic Cables, was awarded an agreement for the supply of 66 kV XLPE-insulated inter-array cables and associated accessories for the Hai Long 2 and 3 offshore wind project.
A few months later, LS Cable & System signed a submarine cable supply agreement worth €150 million for the offshore wind project.
The construction of the offshore wind farms, located some 50 kilometres off the coast of Changhua county in water depths of between 35 and 55 metres, is expected to begin in 2024.
Scheduled to be commissioned a year later, the 1,044 MW Hai Long project is planned to power 1.55 million households in Taiwan.
The offshore wind farm – developed by a consortium comprising the Canada-based Northland Power Inc., Yushan Energy Pte., Ltd., and Mitsui & Co., Ltd. – will feature 73 Siemens Gamesa's SG 14-222 DD wind turbines.
When it comes to Seaway 7, the company is currently executing four offshore cable installation projects in the region, supporting the connection of more than 2.5 GW to the Taiwanese power grid, according to Martijn Elbers, Seaway 7's project and operations director for Taiwan.