Seaways takes delivery of two Damen crew suppliers for W. Africa work
Dubai-based vessel operator Seaways International has taken delivery of two Damen Fast Crew Suppliers (FCS) 2206.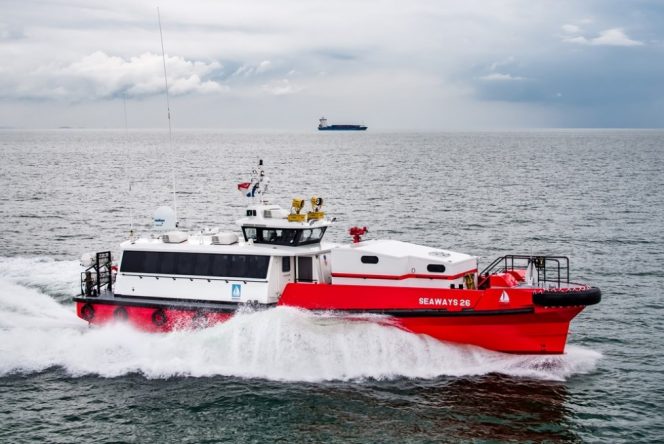 The delivery was made earlier this week at Damen Shipyards Singapore. Seaways will use the new vessels to transport crew to offshore energy locations in West Africa.
Damen signed the contract with Seaways International on in May 2018, and delivered the vessel on March 4, 2019. The shipbuilder explained that the reason it was able to deliver the vessel so quickly was its philosophy of standardized shipbuilding.
"Building vessels in series and for stock enables the group to deliver proven technology to its clients in the fastest possible timeframe," Damen said.
Though part of the group's standardized vessel portfolio, Damen has tailored Seaways International's Fast Crew Suppliers 2206 including the addition of FiFi with a capacity of 600m3 per hour and a throw length of 85 meters, additional accommodation and crew facilities, business class seating, fuel monitoring and a full 3G WiFi system, the shipbuilder said.
The vessels will carry up to 30 passengers as well as six crew, at speeds of up to 30 knots.
The vessels will be transported on a heavy-lift vessel to Luanda, Angola. The third vessel is currently under construction at Damen Shipyards Antalya, in Turkey and is scheduled for delivery in July.
Related news
List of related news articles