Sembcorp Marine's Brazilian shipyard delivers new FPSO to Petrobras
Sembcorp Marine's Brazilian shipyard, Estaleiro Jurong Aracruz, has completed a floating production, storage and offloading (FPSO) project for Petrobras.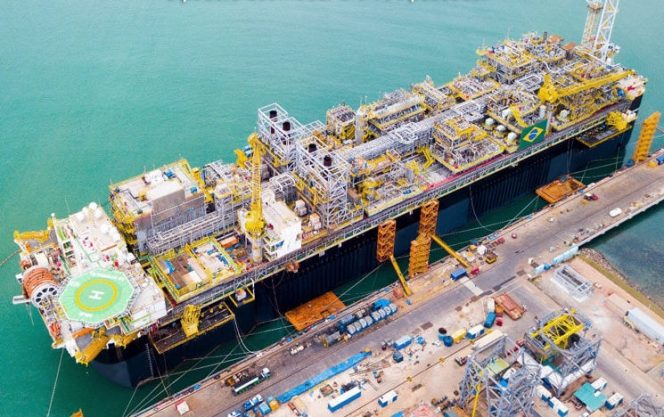 The P-68, a newbuild FPSO vessel, left the shipyard on Monday and will be deployed to the ultra-deepwater Berbigão and Sururu fields in Brazil's Santos Basin, the shipyard said.
In a separate statement on Monday, Petrobras said that production at these fields was expected to begin in the fourth quarter of 2019. The P-68 will be the fourth platform to start-up in 2019, after P-67, P-76, and P-77.
The hull was built at the Rio Grande Shipyard, in Rio Grande do Sul, and the module integration and commissioning of the unit were carried out at the Jurong Aracruz Shipyard.
Sembcorp Marine, through its Brazilian subsidiary, secured hull carry over works from Tupi B.V. for the FPSO P-68 project in September 2017. The vessel was constructed for Tupi B.V., a consortium comprising Petrobras, Total, Shell, and Galp Sinopec Brazil Services B.V. (Petrogal).
Measuring 316m in length and 54m in width, the P-68 will produce up to 150,000 barrels of oil per day (BOPD). It has a 1.6-million-barrel storage capacity and can accommodate 154 persons.
The shipyard's P-68 work scope included fabricating six modules, pipe-racks and a flare, and integrating them on the vessel along with other free issue items. It also executed carry-over works on the FPSO's hull, which was built by another shipyard.
Estaleiro Jurong Aracruz President, T. Guhan, said: "We are committed to growing our business here by providing the offshore oil and gas industry with world-class engineering solutions and by actively promoting skills development, education, employment opportunities, healthcare and other sustainable outcomes that advance our communities' progress."
Berbigão and Sururu fields are located in the BM-S-11A concession, operated by Petrobras (42.5%), in partnership with Shell Brasil Petróleo Ltda. (25%), Total (22.5%) and Petrogal Brasil S.A. (10%), with the consortium companies owning P-68. The reservoirs of these fields extend to areas under the Transfer of Rights Agreement (100% Petrobras) and, after the unitization process, will constitute the shared reservoir of Berbigão and Sururu.
Following P-68, Estaleiro Jurong Aracruz will complete the P-71 FPSO modules fabrication and integration project for Tupi B.V.