Shell spuds Namibian wildcat
Oil major Shell has started drilling an exploration well in the Orange Basin offshore Namibia using a Valaris-owned drillship.
The Graff-1 well is located in Block 2913A in the Orange Basin where Shell is the operator and its partners are QatarEnergy and the national oil company of Namibia, Namcor.
QatarEnergy became Shell's partner in two exploration blocks offshore Namibia, Block 2913A and Block 2914B, in April 2021. The blocks are located in the PEL 39 exploration licence, which is located in ultra-deepwater depths of about 2,500 metres, covering an area of approximately 12,300 square kilometres.​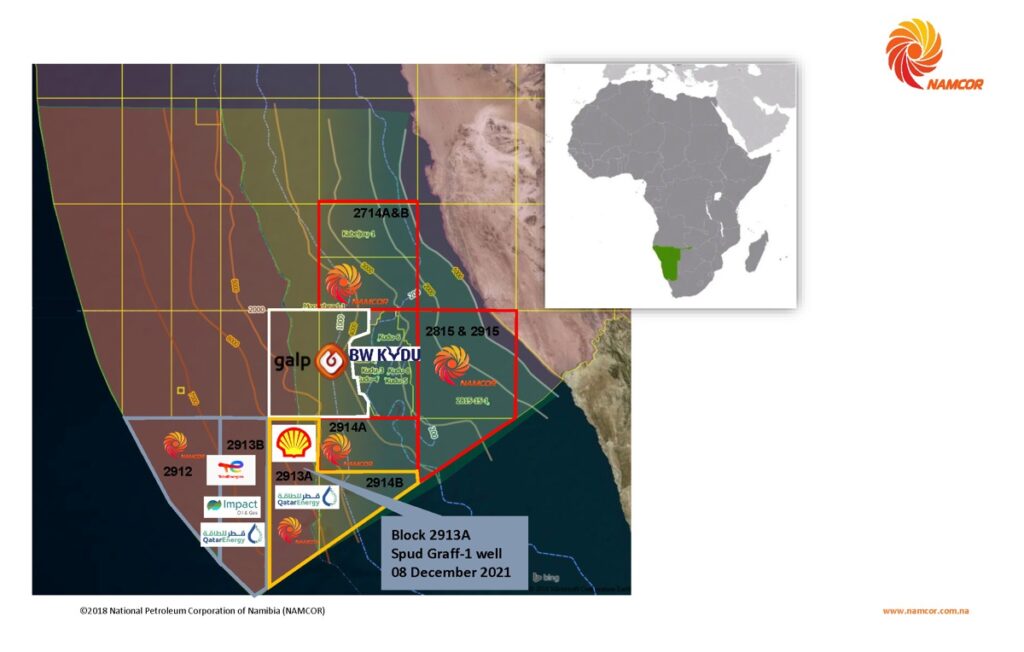 Namcor revealed on Monday that the well had been spud, saying the spudding is "quite a milestone for us and the country as a whole."
Shell is drilling the Graff-1 well using the Valaris DS-10 drillship, which it hired for Namibian operations back in August 2021. Namely, the rig was awarded two one-well contracts with an estimated duration of 60 days each for work offshore Namibia and Sao Tome and Principe with the Namibian work slated to start first.
Valaris' latest fleet status report shows that the drillship started its contract with Shell off Namibia in November 2021 and is set to end in January 2022. The contract off Sao Tome and Principe is scheduled to start in February 2022.
The update on Shell's exploration well in Namibia comes only two weeks after TotalEnergies started drilling its own deepwater well in the country, the Venus-1X, located in Namibia Block 2913B (PEL 56).
QatarEnergy and Namcor are partners in this block as well. The Qatari company entered Block 2913B and 2912 in the Orange Basin in August 2019 through a farm-in deal with TotalEnergies.
The Venus deepwater well is being drilled using the Maersk Voyager drillship in 3,000m water depth. The well is targeting a large basin floor fan system with significant undiscovered petroleum initially in place that has been identified using 3D seismic data.
These two wells off Namibia are on-trend to Pancontinental's giant PEL 87 Saturn oil play. The ASX-listed Pancontinental is the operator of PEL 87 offshore Namibia. The company said in an update on Tuesday that the drilling success in this region could open up a "complete new African oil play."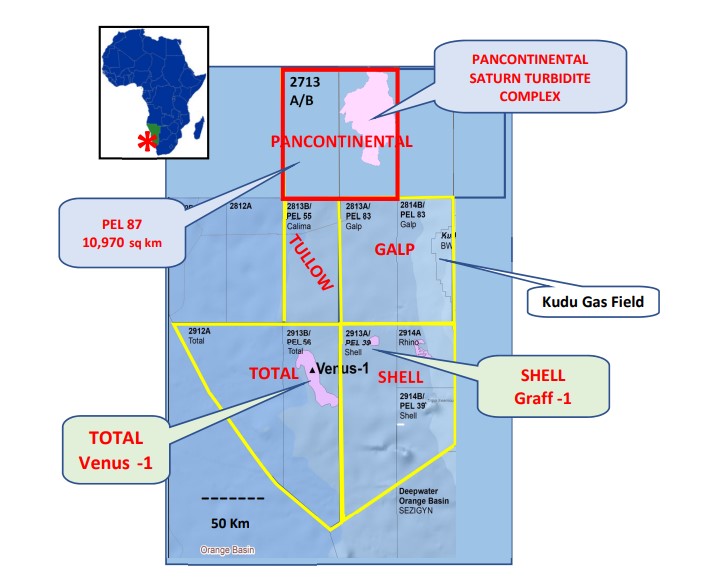 Pancontinental Technical Director, Barry Rushworth, commented: "This is a very exciting time for Pancontinental, with the huge oil potential of our Saturn turbidite complex in PEL 87 being drilled on-trend by Shell and Total."
He added: "These wells are recognised worldwide as two of the most important oil exploration wells of the year. Total's Venus-1 well spudded recently, and now Shell has started its Graff1 well. Pancontinental's Saturn turbidite complex is geologically similar in many ways, particularly to the Venus Prospect.
"These turbidite plays are like very large oil fields elsewhere in Africa, triggering significant interest in offshore Namibia from major oil companies and Africa specialists."