Silverstream fits its air lubrication system on 24K TEU MSC Irina
UK-based cleantech company Silverstream Technologies has completed the installation of its air lubrication system on board the 24,000 TEU containership MSC Irina.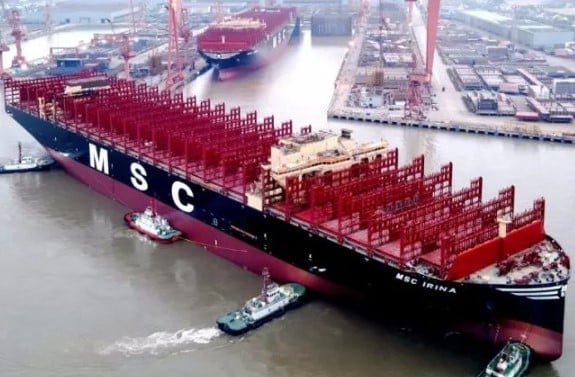 The giant boxship is being built for MSC Mediterranean Shipping Company at Yangzijiang Shipbuilding Group. Specifically, the vessel was ordered by the Chinese Bank of Communications Financial Leasing and will be chartered out to MSC.
"This installation is the first of an extensive roll out program across a fleet of MSC newbuilds due to take place over several years," Silverstream said.
The company said that the 'landmark' installation was followed by sea trials which included Silverstream engineers who checked the performance of the system.
The DNV-classed vessel has a total length of 399.99 meters, a molded width of 61.3 meters, a deck area of ​​24,000 square meters, equivalent to 3.5 standard football fields, and can reach a speed of 22.5 knots.
The maximum loading capacity of the ship is 24,346 TEUs, and it has the ability to load up to 25 rows of containers equivalent to the height of 22 floors.
Silverstream Technologies has pioneered air lubrication within shipping for over ten years. The system can reduce frictional resistance between the water and the hull surface, reducing fuel consumption and associated emissions by 5-10% net, depending on vessel type, according to Silverstream.
In addition to air lubrication, MSC Irina employs numerous energy-saving features including a bulbous bow, large-diameter propellers, and energy-saving ducts.
Swiss-based container shipping giant MSC has the largest orderbook by far in the industry with over 134 containerships on order. Namely, MSC has 14 megamax ships and 22 neo-panamax ships on order scheduled for delivery in 2023, according to Alphaliner. The orders are spread between Chinese and South Korean shipbuilding majors.
Most recently MSC emerged as the shipowner behind an order for ten LNG dual-fuel containerships.
The order was confirmed by China's CIMC Group, which disclosed that the construction contract was secured by Zhoushan Changhong. Aside from the dual-fuel propulsion, enabling the vessels to run on both LNG and conventional fuel, the ships will also adopt the most-advanced ammonia-ready design.
The delivery of the newbuilds will be spread between 2025 and 2026.