Singapore Welcomes Its Largest Containership to Date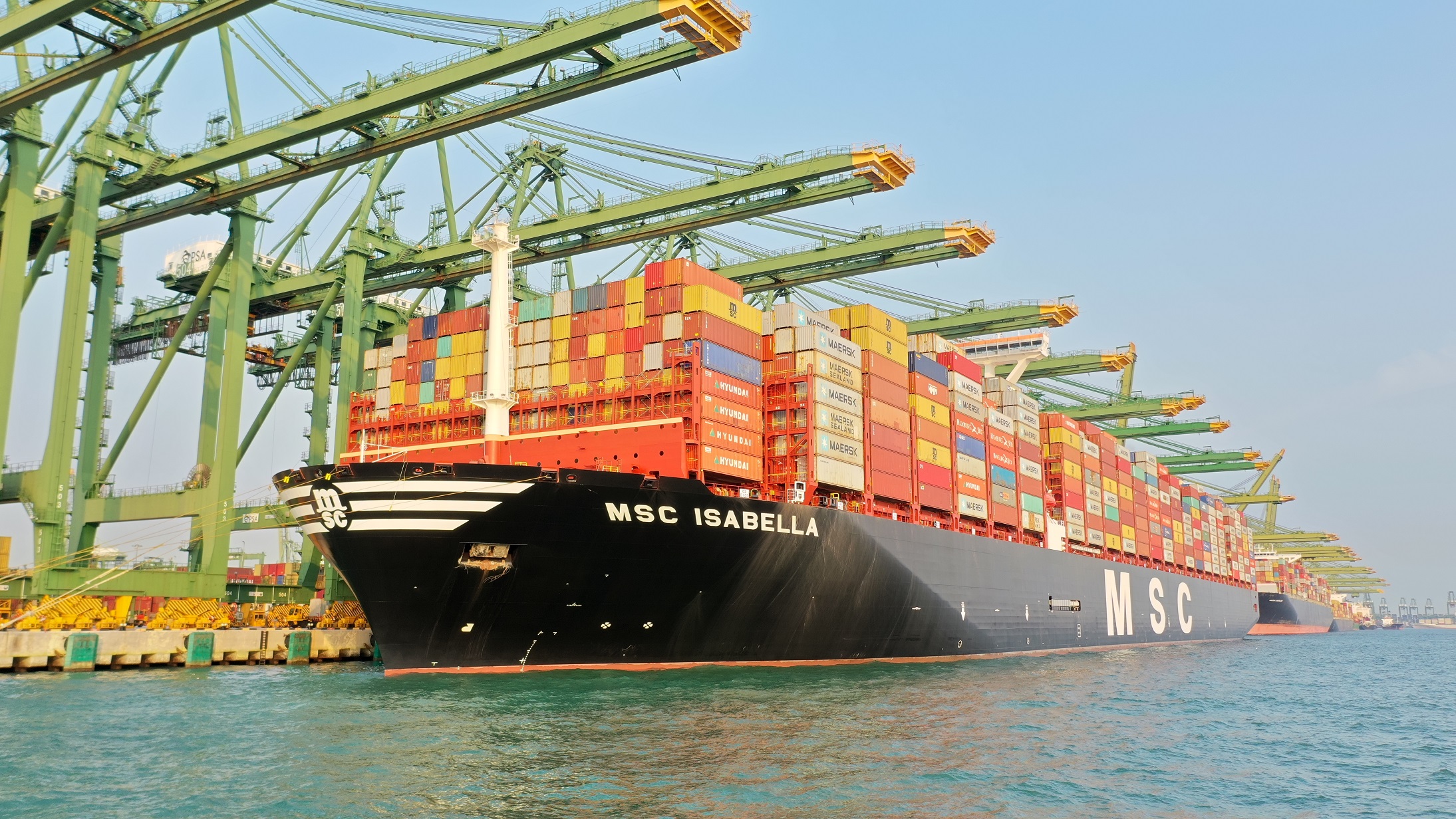 The 23,656 TEU MSC Isabella made its maiden call at the Port of Singapore on November 10, 2019, becoming the largest containership to visit this port to date.
The ultra large container vessel (ULCV) is one of the eleven new ships from Mediterranean Shipping Company's (MSC) Gülsün-class of boxships. The Gülsün-Class is currently the world's largest series of containerships.
Featuring a length of 400 meters and a width of 61 meters, the newbuild can carry up to 24 rows of containers, with a height of 13 tiers on deck. Its length exceeds that of the Eiffel Tower and it can transport the equivalent of about 384 million pairs of shoes.
Aside from its capacity, the vessel is also equipped to carry more than 2,000 refrigerated containers.
PSA Singapore's container terminal is MSC Isabella's first port-of-call in Asia after sailing back from Europe. Delivered to MSC by South Korean shipbuilder Daewoo Shipbuilding & Marine Engineering (DSME) in August 2019, the vessel started sailing from the Qingdao port on August 28 and has now completed its first round-trip between Asia and Europe.
"Our biggest and most energy efficient ships are being deployed on the Asia-Europe trade, which demonstrates our continued commitment to this largest and busiest trade corridor. We are delighted to welcome the first port call in Singapore by MSC Isabella from our largest Gülsün-Class of ships," YJ Tan, Regional Managing Director for MSC Asia Regional Office in Singapore, commented.
Deployed on MSC's Swan service, the vessel will next call at the Port of Hong Kong after leaving Singapore.
MSC Isabella belongs to the series of the most energy-efficient ships in MSC's fleet of container vessels, with the lowest carbon footprint per container carried by design. A combination of the latest green technologies and greater economies of scale have helped reduce energy requirements over time, according to MSC. Some of the features include the optimized shape of the ship's bulbous bow and rudder bulb lower resistance while sailing, further enhancing energy efficiency.
What is more, MSC Isabella is fitted with an IMO-approved hybrid exhaust gas cleaning system and has the option of switching to low-sulphur fuel or to be adapted for LNG use in the future, complying with the upcoming IMO sulphur cap 2020.
Image Courtesy: PSA Singapore