Singapore's 60 MWp floating solar farm up and running
Sembcorp Floating Solar Singapore and National Water Agency PUB have launched the Sembcorp Tengeh Floating Solar Farm at the Tengeh Reservoir.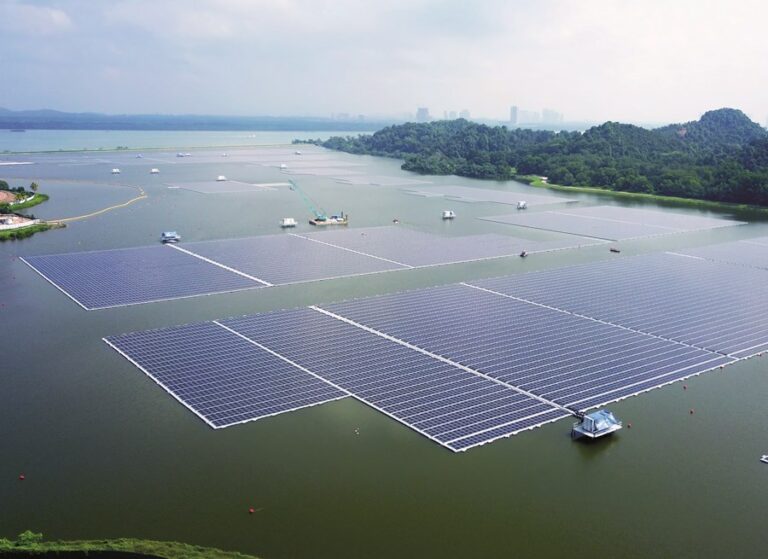 Said to be one of the world's largest inland floating solar farms, the 60 megawatt-peak (MWp) floating solar photovoltaic (PV) system features 122,000 solar panels spanning across 45 hectares.
The project is also the first in the world to deploy drone electroluminescence imaging technology on a utility-scale PV system, Sembcorp reports.
The electricity generated from the 60 MWp solar farm will be sufficient to power Singapore's five local water treatment plants, offsetting about 7% of PUB's annual energy needs and reducing PUB's carbon footprint.
Ng Joo Hee, chief executive of PUB, said: "With this floating solar power plant, which we believe to be one of the largest in the world, PUB takes a big step towards enduring energy sustainability in water treatment. Solar energy is plentiful, clean and green, and is key to reducing PUB's and also Singapore's carbon footprint".
According to Sembcorp, launching the solar farm's operations is contributing to Singapore's national goal of quadrupling solar energy deployment by 2025.
"The Sembcorp Tengeh Floating Solar Farm is a crown jewel in our portfolio, and a showcase for Singapore. As the leading homegrown renewable energy player, Sembcorp has over 3,300 megawatts of renewable energy assets around the world. We are committed, and have the track record and competencies, to support the Singapore Green Plan", said Wong Kim Yin, group president and CEO of Sembcorp Industries.
Construction of the floating solar PV system started in August 2020, following the environmental study conducted from 2015 to 2018.