Sonadrill drillship held in Malaysia due to lack of permits
The Sonangol Quenguela drillship is being held by the Malaysian Maritime Enforcement Agency due to docking without permission.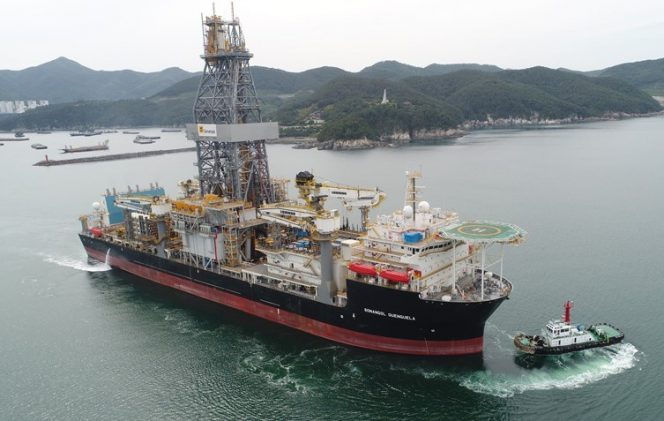 The Sonangol Quenguela drillship is operated by Sonadrill, a joint venture established by drilling contractor Seadrill and an affiliate of Angola's oil company Sonangol.
According to the Malaysian coast guard, otherwise known as the Malaysian Maritime Enforcement Agency, the Bahamas-registered drillship was detained on Monday night 9 nautical miles east of Tanjung Balau after it had failed to produce any permits for Malaysian waters.
The coast guard said that the drillship was controlled by a crew of 43 men, including the captain, from 28 to 57 years old from various countries.
The case will be investigated and, if found guilty, it can be fined with RM 100,000 or a jail sentence of up to two years.
Seadrill and Sonangol entered into a 50:50 joint venture – named Sonadrill – to operate four drillships, focusing on opportunities in Angolan waters in February 2019. It was agreed for each of the joint venture parties to bareboat two drillships into Sonadrill. The JV will have an initial term of five years.
Seadrill agreed to contribute two drillships from its existing fleet and Sonangol to contribute two newbuild drillships, Libongos and Quenguela.
It was also agreed for Seadrill to manage and operate the four drillships on behalf of Sonadrill.
Built by South Korea's shipyard Daewoo Shipbuilding Marine and Engineering, the Sonangol Libongos was delivered in March 2019. Sonadril secured a nine-well contract with six options, each for one well, in Angola for the Libongos drillship last September.
The Sonangol Quenguela drillship was named at DSME's shipyard in May 2019 and it was expected to leave the yard in June.