Spain-France subsea interconnector to be developed in spite of 'sharp' rise in prices
The Spanish regulatory authority the Comisión Nacional de los Mercados y la Competencia (CNMC) and the French counterpart the Commission de régulation de l'énergie (CRE) have reached an agreement on the distribution of financing for the electricity interconnector that will link France and Spain taking into account the increase in costs.
Currently, the Bay of Biscay interconnector is estimated at a total cost of around €2,850 million, together with a risk margin of €250 million, a significant increase from the initial estimate of €1,750 million from September 2017.
This increase is said to be a result of the unfavorable raw materials market and a sharp rise in prices of the components, mainly due to a particularly tense context on the markets for the supply of HDVC cables and converter stations. In addition, the commissioning of the project is now scheduled for 2028.
However, according to CNMC and CRE, the expected benefits of the project have also increased considerably, due to changes in forecasts for the energy mix and electricity consumption in European countries, in the context of accelerating the energy transition. 
As a result, the two regulators adopted a joint decision on 2 March recognizing the value of the project and amending the agreement to share the costs of the project foreseen in 2017, in particular taking into account the current economic and energy context. This agreement activates, with immediate effect, the continuation of the project.
The interconnector will also benefit from a €578 million grant from the EU's Connecting Europe Facility (CEF).
The Bay of Biscay electricity link includes building two independent electrical links, each with a capacity of 1,000 MW, between Cubnezais in France and Gatica in Spain, comprising a route of approximately 400 kilometers in total, of which 300 kilometers is offshore.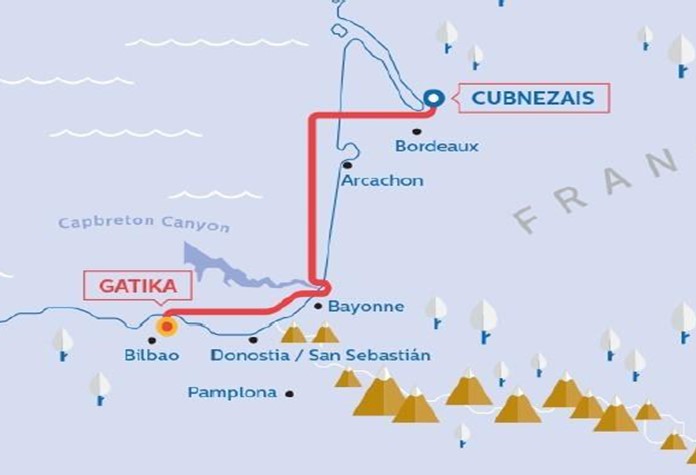 Once commissioned, the project will increase the interconnection capacities between Spain and France from 2.8 GW to 5 GW.
SUBSCRIBE