SSL Kolkata Lists Starboard following Further Explosions
The ordeal of the fire-stricken merchant vessel SSL Kolkata, operated by Shreyas Shipping and Logistics Limited, is far from over.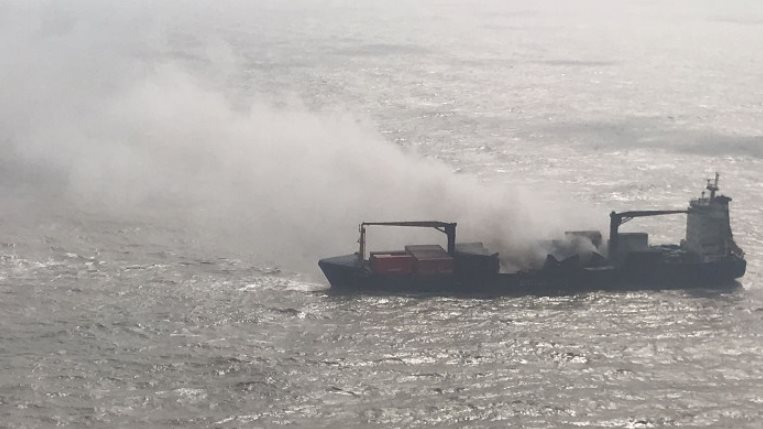 Namely, following the explosion and a fire that took place on June 13 in the ship's cargo area, forcing its 22 crew members to abandon ship, further explosions have been reported on board the ship.
The ship's crew members had been evacuated from the vessel and they are reported to be safe.
"The international salvors, Smit, have reported that further explosions have been heard from stand-by vessel Lewek Altair, and that SSL Kolkata has developed a list to starboard with the deck now part submerged," the port operator said in a release.
SSL Kolkata remains aground some 7.5 nautical miles off the Indian Sunderbans, Kolkata, West Bengal, in shallow water and sitting on soft mud.
Shreyas said that the removal of bunker fuel and cargo remain a priority and that salvors and authorities are making every effort in this regard. Several support vessels are standing by for observation and potential anti-pollution duties in order to prevent any pollution from cargo or fuel oil.
"While there has been no release of any fuel oil to date, plans have also been developed by the authorities, salvors and other experts to address this eventuality. These include the deployment of absorbent booms and other countermeasures," the company said.
"Shreyas takes its environmental responsibilities extremely seriously and will make every effort to ensure that this situation is brought to a safe and timely conclusion, despite the very challenging monsoon season conditions which are currently being faced."
At the time of the incident, the vessel, which was carrying 464 containers, was on its way from India's Krishnapatnam Port to the port of Kolkata.