Steel Cut for CMA CGM's 22,000 TEU Behemoths, World's Largest Boxships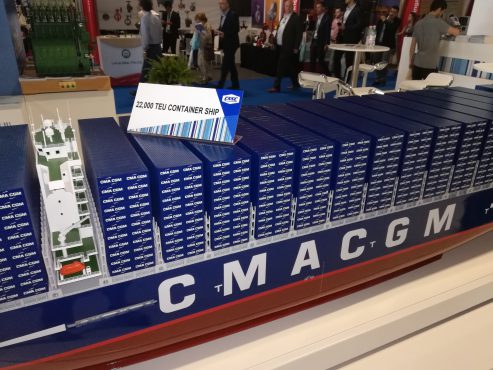 China State Shipbuilding Corporation (CSSC) has launched construction of CMA CGM's 22,000 TEU boxships ordered in September 2017.
The steel cutting ceremony was held on Tuesday, July 26 at Jiangnan Shipbuilding in Shanghai, hosting representatives from the shipbuilder, CMA CGM and MOL, China Association of the National Shipbuilding Industry (CANSI) said.
The ceremony marked the construction on two hulls that form part of the nine-strong series, the other ship being built by Hudong-Zhonghua Shipbuilding.
The ships will be fitted with LNG-powered engines, making CMA CGM the first container shipping company to opt for LNG propulsion as main fuel for such large ships.
They measure 400 meters in length, 61.3 meters in breadth and 33.5 meters in depth, making them the world's largest containerships. The vessels will also feature WinGD's dual-fuel low-speed engine (12-cylinder X92DF) and the world's first GTT MK III membrane fuel tank with a capacity of 18,600 cbm.
According to Cansi, the ability and acquired know-how of Jiangnan Shipbuilding to build LNG membrane tanks has provided China with the strategic advantage in this sector, ending Japan's and South Korea's monopoly in the large LNG ship construction market.
CMA CGM is yet to provide World Maritime News with a comment on the matter.
The USD 1.2 billion worth ships, ordered from CSSC's Hudong-Zhonghua Shipbuilding (Group) and Shanghai Waigaoqiao Shipbuilding, are expected to start delivery from the end of 2019 extending into 2020.
World Maritime News Staff