Stena Line: We are 10 years ahead of the industry's emission reduction targets
Ferry shipping company Stena Line has cut its total CO2 emissions by 1.7 %, corresponding to 24,000 tonnes of CO2 in total, the company said in its sustainability report for 2019.
The report further indicates that ferry owners and operator managed to reduce its CO2 emissions per transported ton freight and passenger vehicles onboard its vessels by 3.6%.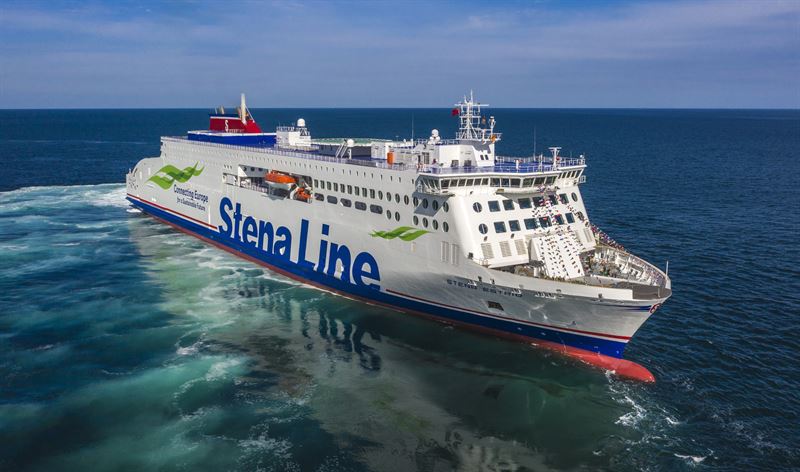 Stena Line said that the latest reduction figures mean that the company is ten years ahead of the industry's reduction goals and that it already meets the International Maritime Organisation (IMO) targets for 2030 of a 40 % reduction in CO2 emissions efficiency from 2008-2030.  
"During the last ten years we have improved the efficiency with more than 320 energy efficiency actions onboard and onshore, both technical and operational improvements and investments," Erik Lewenhaupt, Head of Sustainability at Stena Line, said.
"The introduction of AI-assisted vessels and the delivery of our first new larger and energy-efficient vessels that went into operations on the Irish Sea during the spring, are some highlights from last year."
To remind, back in 2019 Stena Line took delivery of Stena Estrid from AVIC Weihai Shipyard and deployed it on the Dublin to Holyhead route.
Stena Estrid was the first of five next-generation Stena Line RoPax vessels being built in China to join the company's fleet. Shortly after, E-Flexer ferry Stena Estrid started service on the Irish Sea route in January 2020.
"Stena Estrid and Stena Edda are bigger, better, and more efficient than previous generations of ships. Per unit carried they can lower CO2 emissions by about 25 percent compared to a standard design ship and they are equipped with lots of green technology," Lewenhaupt explained.
Once delivered, all five newbuilds will be supported by Stena Line's artificial intelligence technology, Stena Fuel Pilot, which predicts the most fuel-efficient way to operate a vessel, helping cut fuel consumption by 2–3 percent per trip, the report revealed.
The company has already tested and implemented the technology on several of its ships, and during 2020–2021 the ferry operator is planning a fleet-wide rollout.
"Planning a trip and handling a vessel in a safe, and at the same time, fuel-efficient way is craftsmanship. When assisted by AI a captain or officer can learn how to optimise fuel quicker, and in return, this contributes to a more sustainable journey," says Jari Virtanen, Chief Transformation Officer at Stena Line.
The ferry operator wants to lower its yearly fuel consumption and CO2 emissions by 2.5 percent per ton/km by using technology.
Furthermore, Stena Line has the ambition to become a zero-emission company by 2050 in line with international targets.
"We are currently working in parallel with reducing fuel consumption, and emissions to sea and air and at the same time exploring and evaluating the fuels for the future. We are currently involved in several projects with alternative fuels and propulsion, including the world's first methanol powered vessel and a battery project with the aim of launching a fully battery-powered vessel before 2030," Lewenhaupt added.
The ferry owner said that it has almost completely reduced the use of single-use plastic aboard its ships and was working on improving the use of recycled material in its offices, ports, and terminals.
The report also shows that the company increased the number of female leaders in the company, adding that a total of 20 % of managers are females.
: