Strohm's deep-water TCP makes a splash in South America
Strohm has installed and commissioned its first deep-water, high-pressure thermoplastic composite pipe (TCP) jumper in South America for ExxonMobil Guyana.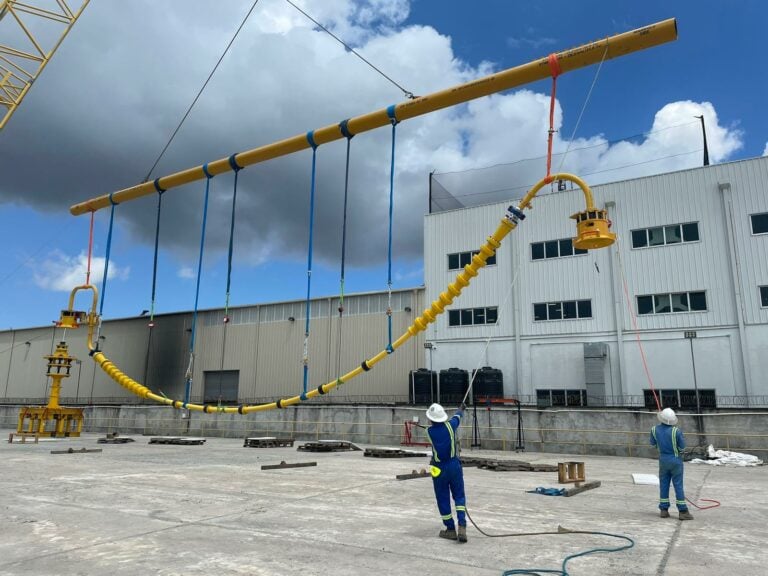 The jumper, incorporating advanced carbon fiber and polyamide12 materials, is used for water alternating gas (WAG) injection at ExxonMobil Guyana's Liza field.  
It was installed in depths over 1,700 meters, after being landed and leak-tested subsea.  
"This is a pivotal moment for our business, underlining the clear advantages that our Jumper on Demand brings to a project of this scale and depth, as well as proving our WAG application for this region," said Gavin Leiper, Strohm's Vice President Americas and Leader of the Field Service Group.
"Our approach minimises transportation cost, maximises local content, and reduces the total cost of installation as well as lowering carbon footprint. This approach is proving extremely successful with multiple projects ongoing and completed around the globe. Strohm's specialist field service technicians mobilise to the client's location as the jumper termination campaigns are called off over the duration of the deployment programme." 
Previously, Strohm was awarded two contracts for the Uaru and Yellowtail developments, where it will supply a total of 50 of its WAG TCP Jumpers across the two campaigns.
These projects are delivered under the company's Jumpers on Demand approach, where a single length of pipe is delivered on a single reel to the client's location, and then spooled off to the desired jumper length, cut, terminated, tested and mated with a connector system. 
Strohm's newly created Field Service Group has also recently secured the service contract to support onsite termination operations in-country and deliver on the termination scopes of work for pre-first oil for Yellowtail.
At the beginning of the year, Strohm announced it had completed its plant expansion, tripling the capacity for production to 140 kilometers of normalized pipe per annum.
The expansion is said to be the biggest capital investment the Dutch company has undertaken since originally setting up the facility in the port town of IJmuiden, near Amsterdam.