Team for Spain-France electricity interconnector starts taking shape
Inelfe, a joint venture between the Spanish transmission system operator (TSO) Red Eléctrica and the French counterpart RTE, has awarded the engineering, procurement and construction (EPC) contracts for an electricity interconnection project that will link the two countries.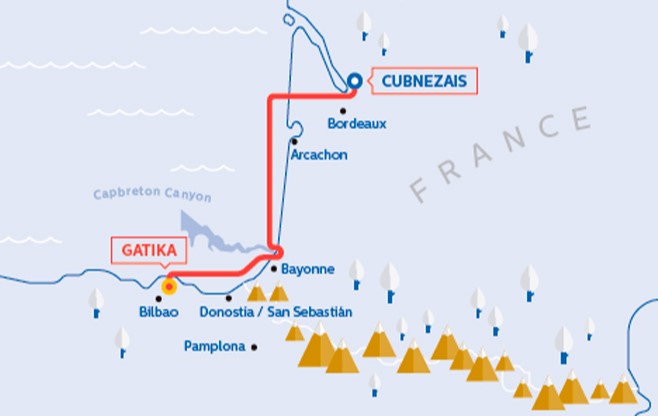 The Biscay Gulf project will comprise two high-voltage direct current (HVDC) links, each with a capacity of 1,000 MW, linking Gatika in Spain and Cubnezais in France. It will be the first fundamental submarine interconnection between the countries.
The EPC contracts for almost 1,600 kilometers of HVDC submarine and land cables have been awarded to NKT and Prysmian.
Additionally, the EPC contract for the converter stations has been awarded to the consortium of Hitachi Energy and Vinci. The EPC contract for the civil works associated with the land cables is still in the tender stage and will be awarded later this year.
Over the next few weeks, Inelfe plans to engage in exclusive negotiations with each of the suppliers, with the aim of signing the contracts before May.
The contract awards come after a joint statement by the Spanish and French regulators CNMC and CRE confirming their interest in moving the project forward with a new assessment of the project costs, which amount to €2.85 billion and to which a provision for risks of €250 million is added.
As a result of this agreement, the regulators have also amended the distribution of the costs between the two countries, taking into account the current economic, financial and energy context.
The Biscay Gulf interconnector was awarded a €578 million grant from the European Union in 2018 as a Project of Common Interest (PCI). The construction work is scheduled to start after this summer.
Once commissioned, the project will increase the interconnection capacities between Spain and France from 2.8 GW to 5 GW.