TEN reveals order for Suezmax pair in Korea, as it wraps up record year
Greek shipping major Tsakos Energy Navigation (TEN) has placed orders for the construction of two scrubber-fitted environmentally designed Suezmax tankers in South Korea.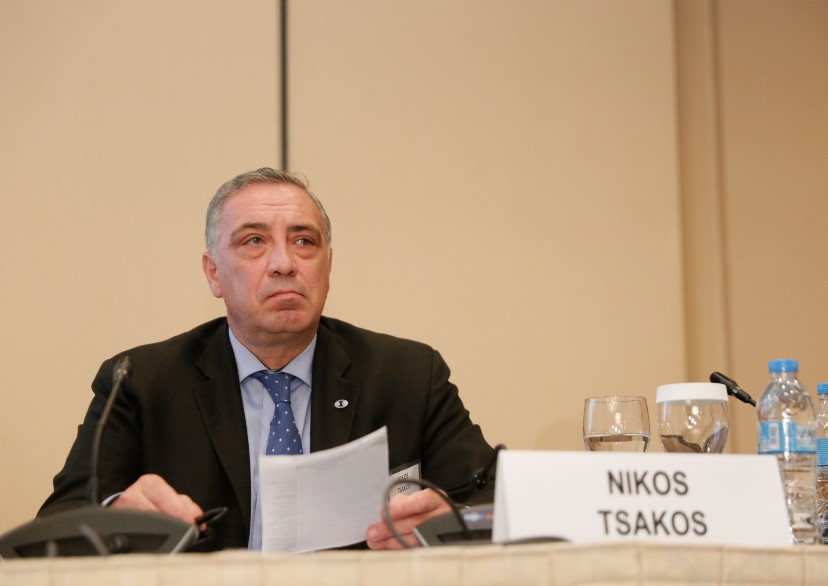 The company did not disclose the name of the yard, however, previous market reports indicate that the builder is Hyundai Heavy Industries. The tankers are expected for delivery in 2025.
The company said that the orders were contracted back in December 2022 and January 2023.
"Management is in discussions with various high-end charterers to employ the vessels on long-term contracts upon delivery," TEN said.
Separately, TEN disclosed the sale of six 2005-built MR and two 2007-built Handysize tankers on an en-bloc basis to third party interests and generated $117 million of free cash after repaying related debt. A capital gain of $80.4 million from these sales will be recorded in the first quarter of 2023.
In February 2023, TEN repurchased two 2005-built Suezmax tankers that were under sale-and-leaseback agreements, the Eurochampion 2004 and Euronike. As informed, currently, these vessels operate in the strong spot market and management is actively exploring opportunities.
"Following the sale of eight vessels, with an average age of 17 years, the company is renewing its fleet with an active newbuilding program in South Korean yards with four dual-fuel LNG Aframaxes, two DP2 shuttle tankers, and two Suezmaxes for deliveries starting in the third quarter of 2023," TEN said.
In March 2023, the company fixed its 2016-built LNG carrier Maria Energy for a minimum of 12-years to an unnamed Asian natural gas operator at a 'rate reflective of current market conditions in the LNG sector.' The vessel is expected to be delivered to her new charterer in April 2026 and is expected to generate a minimum of $350 million in gross revenues.
Overall, TEN wrapped up a very successful year driven by positive market fundamentals and the ongoing geopolitical events that have maintained a strong market throughout 2022. TEN's fleet generated $860 million of voyage revenues, $314 million higher than in 2021. The resulting operating income for 2022 was $256 million or $290 million better y-o-y. In line with the above trend, net income climbed to $204.2 million.
With an almost identical average number of vessels as in 2021, roughly 66, the average daily Time Charter Equivalent (TCE) per vessel for 2022 averaged $30,399, 78% higher than 2021 average of $17,037.
In the 2022 fourth quarter, TEN generated voyage revenues of $270 million, almost doubling the revenues generated in the 2021 fourth quarter. Q4 net income attributable amounted to $101.1 million, the company's best quarter since its inception in 1993.
"In what has been TEN's 20th anniversary year on NYSE, ie. TEN@20, long-term market fundamentals and geopolitical events have resulted in very strong rates for our diversified fleet. This has resulted to a record year and positive forward-looking prospects for 2023," TEN said.
The tanker owner is bullish on the market outlook for 2023, with Chinese oil imports anticipated to reach and possibly surpass the pre-Covid levels of 10.8mbpd. Oil consumption is expected by many analysts to expand significantly in 2023, therefore, the strength of the current oil market, enhanced by geopolitical events and additional ton miles, seems to be on solid foundations going forward.
"The tanker sector is set to be a prime beneficiary of this trend as the orderbook stands at just 4% of the existing global fleet, of which 35% is over 15 years of age making these vessels less attractive to high-end oil concerns particularly for longer-term contracts," TEN estimates.
"In this market environment, TEN continues its proven model of a diversified fleet with spot and profit-sharing arrangements serving first class clients, that has secured its successful growth and uninterrupted dividend distributions since inception."
The Greek shipowner said that healthy cash reserves will remain an important element of the company's strategy going forward, adding that the management will assess ways to reward shareholders.

"Having a record year on our 20th anniversary on the New York Stock Exchange, we look forward for even better days as we celebrate TEN@30, thirty years since our establishment back in 1993", George Saroglou, Chief Operating Officer of TEN commented.
TEN's energy fleet currently consists of 67 double-hull vessels including four dual-fuel LNG-powered Aframaxes, two scrubber-fitted Suezmaxes and up to three DP2 Shuttle tankers under construction, totaling 8.4 million dwt.