TGS and Shearwater team up for seismic survey in Brazil
TGS has announced a new multi-client 3D seismic survey in the Campos Basin in Brazil. The survey will cover approximately 11,200 km2 within the granted permit area and will be acquired by Shearwater with the Amazon Warrior vessel.
---
The project will be executed by the Amazon Warrior using proprietary Q technology starting in 1Q 2019.
TGS said on Thursday that the survey will provide contiguous 3D coverage over the highly prospective Brazil Round 16 blocks located in the outer Campos Basin. TGS will utilize advanced imaging (RTM) and velocity model building (FWI) technologies to create accurate and high-resolution images of the prolific Pre-Salt objectives.
Fast Track products will be available in the summer of 2019 ahead of Round 16 with final products available in 2Q 2020.
"Shearwater and TGS have a long-established relationship and we are very pleased to develop this partnership further. Shearwater's Amazon Warrior is equipped with industry leading single sensor Qmarine technology and will provide TGS and their clients with a powerful and effective platform for the survey, ideally suited to environmental conditions offshore Brazil," said Irene Waage Basili, the CEO of Shearwater GeoServices.
"TGS is pleased to continue the good cooperation with Shearwater. The use of their Qmarine technology, combined with TGS processing, will ensure the highest quality of data being delivered to our customers," states Kristian Johansen, CEO of TGS.
The 11,200 km2 survey is expected to last approximately 8 months including transits. This project is supported by industry funding.
The Amazon Warrior is one of two Amazon class vessels in Shearwater's fleet. The vessel is equipped for world-wide operations ranging from harsh arctic environments, to South Atlantic conditions where the stable vessel design enables low noise data to be acquired through an extended operational window.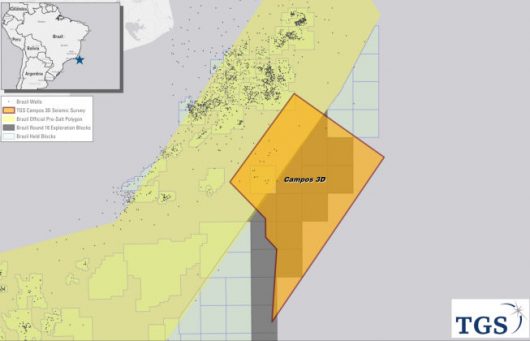 Related news
List of related news articles