The life of an award winner
During Offshore Energy, Marius Ottolini, installation engineer at Heerema Marine Contractors won the Offshore Energy Young Engineer award. This award recognizes outstanding achievements of an engineer under the age of 36.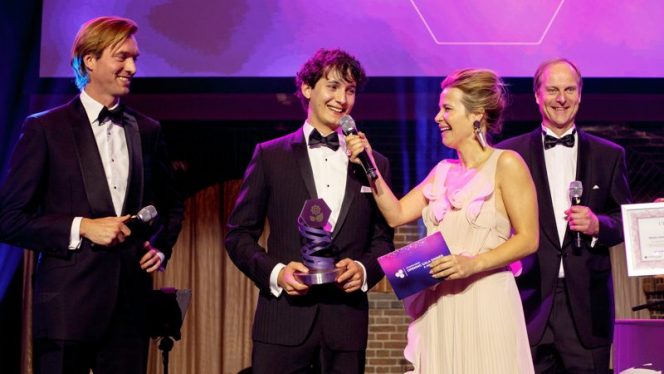 ---
Jury chair Didi te Gussinklo Ohmann, operations director at Van Oord Offshore Wind, commented: "Marius received his award for being one of the big drivers within Heerema in the development of silent foundations, with the aim to reduce or eliminate piling noise. Such noise can affect the marine environment to a substantial degree. He has developed several alternatives which are a step change in foundation design; in particular because the foundation can be installed silently and it can be completely removed after it has reached its end of life."
"There are many talented young professionals, so I am very honored to have been selected." Comments Ottolini during an interview earlier this month. After finishing his is Master of Science, Geotechnical and Geo-environmental Engineering at the Technical University of Delft, Ottolini started working as a Geotechnical Engineer with Heerema Marine Contractors five years ago.
Silent foundations
Last year he made the switch to Installation Engineer within the renewable department. "I jumped at the opportunity to work in silent foundation. Piling offshore is very noisy, which is harmful to underwater life. Of course there are requirements to bring noise to a minim, but at Heerema we want to go one step further and that is to eliminate all noise."
Ottolini works on this project fulltime and has already developed various alternatives that influence design and foundation. "In doing so I not only look at the technical aspects, but I also regard the whole chain. Sometimes you have to really zoom in on technical details, but it is also important to see the bigger picture and to remember the fact you are looking at a smaller part in the complete offshore industry," comments Ottolini.
Further ambitions
Heerema will start testing the new silent piling technique next year and hopes to tender this in 2020. Will Ottolini remain part of the project until then?
"I think I am better at developing new, weird and wonderful ideas. So really working at the start of a new idea versus checking all the last details in the final stages. Others are better at this and probably enjoy this more."
What are this talented young engineer's further ambitions? Ottolini considers the questions and quips: "I am keen to keep on learning and developing and have a hunger for new ideas and knowledge. Where that will take me, I do not know. This project was also an opportunity that came my way and I do not believe in planning everything. The most important thing, I believe, is to jump at the opportunities when you have the chance and to take risks. Trust that it will all work out."
---
Does this young engineer inspire you? In 2019, we will be opening the nominations for the next Offshore Energy Awards. Keep a look out on our website. Perhaps you colleague of employee will be the proud recipient of the Offshore Energy Young Engineer Award.
Related news
List of related news articles