Titan LNG bunkers DEME's Scheldt River at port of Brest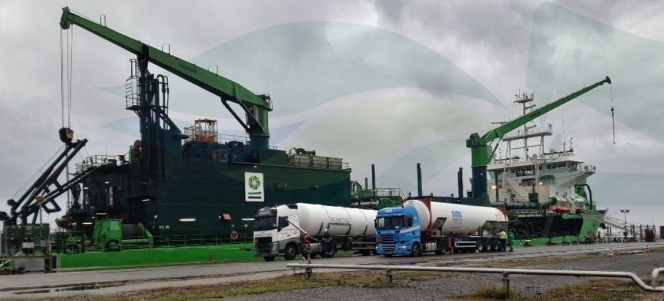 ---
The Dutch service supplier of liquefied natural gas, Titan LNG in cooperation with Port of Brest, CCIMBO and DEME have completed the first truck-to-ship LNG bunkering in the Port of Brest to the hopper dredger Scheldt River.
Commenting on the operation, Stéphane Lucas, Deputy Harbour Commander, said that this bunkering marks an important step forward.
"Due to the strategic location of the Port of Brest, LNG bunkering activities will continue to increase in the future," Lucas said.
"This LNG bunkering in Brest underlines the expansion of LNG delivery options in the ports of Europe," added Régine Portocarero, business development at Titan LNG.
Scheldt River, an 8,400-cbm hopper capacity dredger has an overall length of 115.9 meters and a breadth of 25 meters.
It is the second dredger in the DEME fleet equipped with dual-fuel engines. It joined Minerva, the first LNG-fueled hopper dredger built by the Dutch shipyard Royal IHC for DEME.