TotalEnergies and MSC refuel LNG-powered MSC World Europa in their first bunkering operation in Marseille
TotalEnergies Marine Fuels, a bunkering unit of French energy giant TotalEnergies, and the Cruise Divison of MSC Group have completed the first LNG bunkering operation at the Port of Marseille Fos in Southern France for the MSC World Europa cruise ship.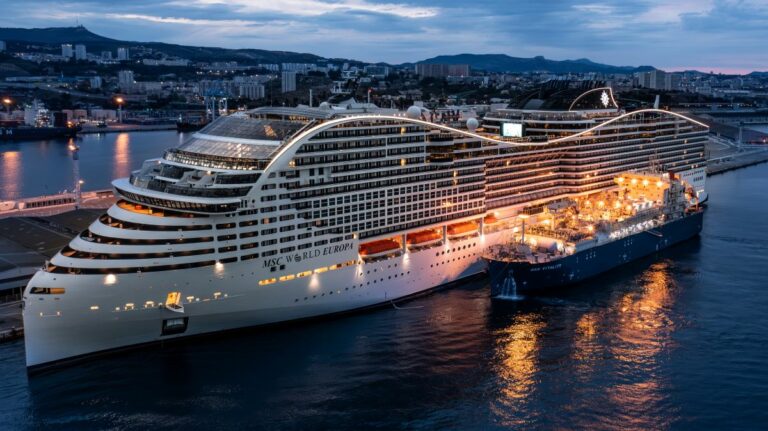 LNG-powered MSC World Europa was delivered to MSC Cruises in October 2022 by Chantiers de l'Atlantique at the Saint Nazaire shipyard in France. The ship is 333 metres long and is said to be the best performing large cruise ship operating in the world in terms of CO2eq emissions per passenger.
The bunkering operation took place on 22 April when TotalEnergies Marine Fuels' chartered LNG bunker barge Gas Vitality refuelled the MSC Cruises' ship via ship-to-ship (STS) transfer of 2,500 m3 of LNG.
At the same time, the operation marks the start of the LNG bunker supply contract between TotalEnergies and the Cruise Division of MSC Group in March 2021. The agreement will see TotalEnergies Marine Fuels supply approximately 45,000 tons per year of LNG to MSC Cruises' vessels at Marseille.
"We are excited to support the Cruise Division of MSC Group in their decarbonisation journey and to help the Port of Marseille Fos become an LNG bunker hub for the Mediterranean region", said Philippe Charleux, Senior Vice President Lubricants and Specialties, TotalEnergies. "This operation also expands our LNG bunkering capabilities to the cruise ship segment, demonstrating our ability to serve a broader range of shipping clients, as the industry strives to reduce emissions. In line with TotalEnergies' Climate ambition, we will continue to work hand-in-hand with our industry partners to develop and scale up new, lower-carbon and ultimately, zero-carbon fuel solutions for shipping."
Patrick Pourbaix, Managing Director of MSC Cruises in France, added: "This first LNG bunkering operation in Marseille is an important milestone for our company as we welcome MSC World Europa for her first summer season in the Mediterranean. Featuring a range of unprecedented innovations in terms of environmental and marine technologies MSC World Europa represents a major step forward on our journey towards meeting our target of net-zero emissions by 2050. LNG is not only the cleanest marine fuel currently available at scale, but also a transitional fuel as we look ahead to source and use synthetic LNG or other alternative non-carbon fuels as soon as they become available at scale."
Some of TotalEnergies Marine Fuels' investments in LNG bunkering infrastructure include the current charters of two 18,600 m3 LNG bunker vessels: the Gas Agility, at the Port of Rotterdam, Netherlands; and the Gas Vitality, at the Port of Marseille-Fos, France.
In addition to operating in Europe, the company is also working to offer its services in Singapore. In October last year, TotalEnergies Marine Fuels marked a milestone in its LNG bunkering supply network with a naming ceremony of the Brassavola LNG bunker vessel in Singapore.
The ship will be the largest LNG bunker vessel for use in service in the Port of Singapore with 116.5 metres in length and 22 metres in width and a capacity of 12,000 m3.
The development of LNG as a marine fuel is part of TotalEnergies' long-term efforts to develop multiple alternative, lower- and zero-carbon solutions, such as new, advanced biofuels, biomethane and green hydrogen-based fuels.