Tullow kicking off drilling ops offshore Suriname
Oil and gas company Tullow Oil is starting drilling operations at its Goliathberg-Voltzberg North prospect (GVN-1) located in Block 47 offshore Suriname. The well was initially supposed to be drilled last year.
The Stena Forth drillship has arrived at the well location in Block 47 and is about to start drilling operations, Ratio Petroleum, Tullow's partner, has informed.
Block 47 is part of the Suriname-Guyana Basin. Partners in the block are Tullow Oil (operator) with a 40 per cent interest and Petroandina Resources and Ratio Petroleum with 30 per cent and 20 per cent interests, respectively.
The well is located approximately 280 km from the shores of Suriname.
According to Ratio, the drilling is expected to last about 70 days with an estimated budget of $60 million.
The water depth at the drilling site is approximately 1,900 meters and the total depth planned for drilling is about 5,400 meters.
Stena Drilling signed a contract with Tullow Oil for the Stena Forth drillship to drill one well in Block 47 at the beginning of September 2020.
Tullow's Suriname well was initially supposed to be drilled in 2020 but it had been delayed.
Tullow then said in July 2020 that the drilling of the Goliathberg-Voltzberg North prospect would be done in the first quarter of 2021.
The well will be testing dual targets in the Cretaceous turbidite play. It is one of a series of leads and prospects on the flank of the Demerara High.
It is a 2,369 sq km deepwater exploration license where there is potential to extend the Jubilee play from West Africa across the Atlantic to Suriname.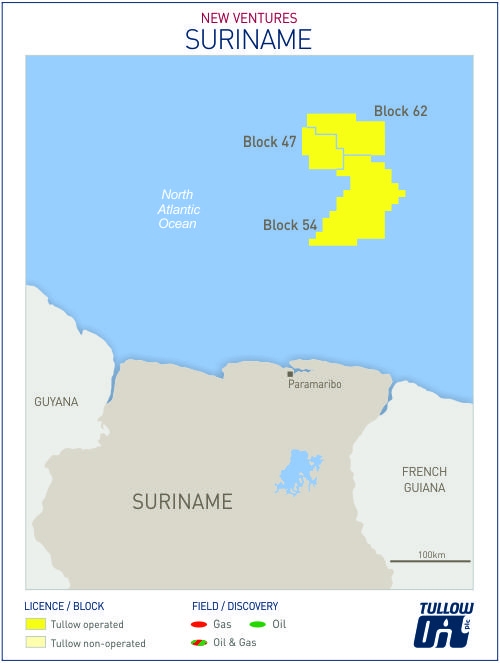 Following Tullow's well, the Stena Forth drillship will mobilize for a CNOOC contract, which was awarded in October 2020. The start-up of operations in the Flemish Pass, offshore Newfoundland and Labrador, is expected between April 2021 and June 2021.
After that, the Stena Forth is expected to mobilize to the Mediterranean Sea offshore Israel between July and August 2021. The rig was hired by Noble Energy Mediterranean – a subsidiary of Chevron following its recent acquisition of Noble Energy.