UAE and India to collaborate on clean energy and green hydrogen
Abu Dhabi's renewable energy company Masdar and Indian conglomerate firm Reliance Industries want to explore opportunities for collaboration in green hydrogen, which is a priority for the UAE and India.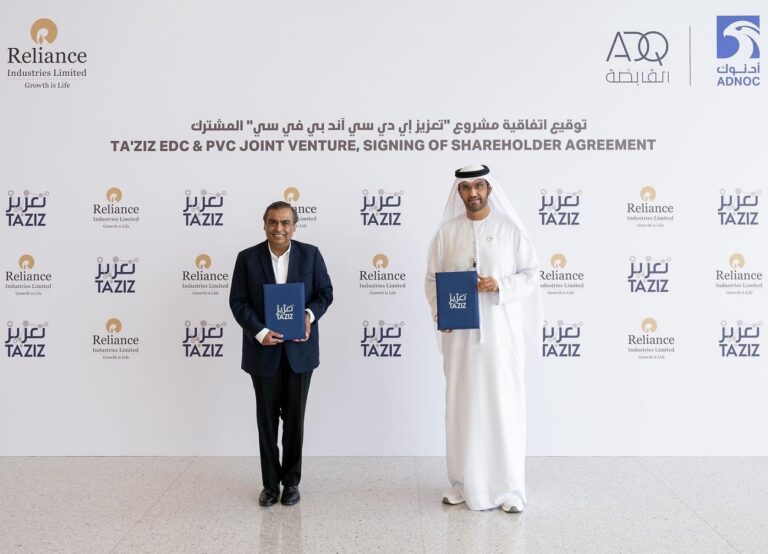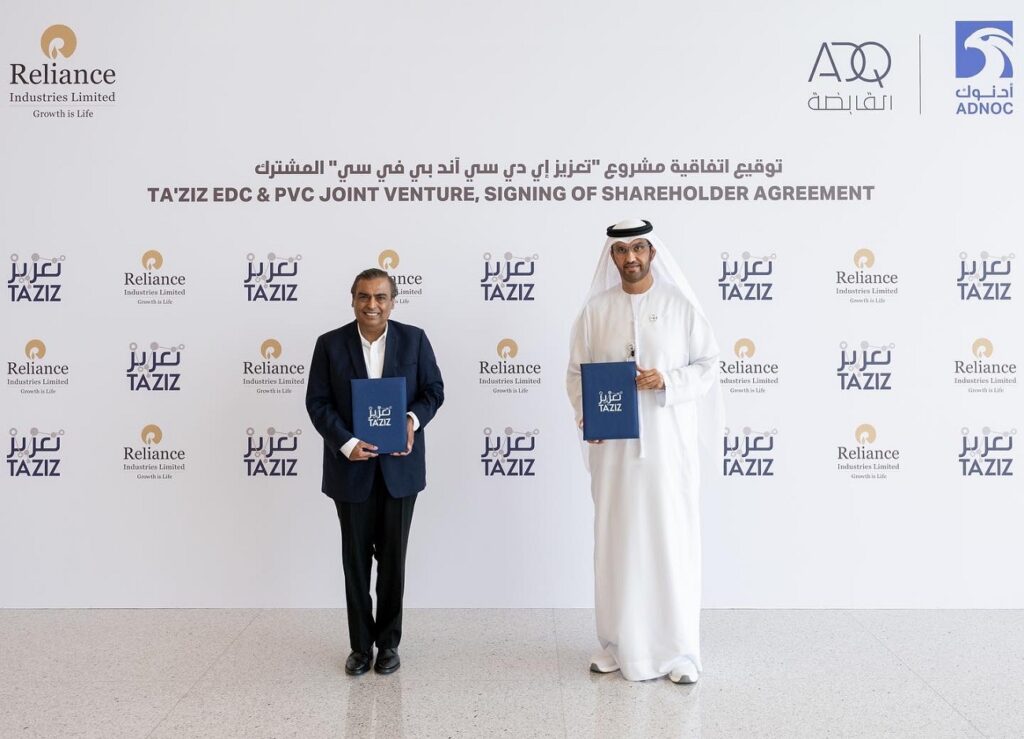 Abu Dhabi Chemicals Derivatives Company (TA'ZIZ) and Reliance signed the shareholder agreement for the TA'ZIZ EDC & PVC project. Reliance is a strategic partner with Abu Dhabi National Oil Company (ADNOC) and ADQ, an Abu Dhabi-based investment and holding company, in TA'ZIZ EDC & PVC. This is a chemicals project at the TA'ZIZ industrial zone in Ruwais.
The TA'ZIZ EDC & PVC joint venture will construct and operate a chemicals production facility, with a total investment of over $2 billion.
Mukesh Ambani, managing director of Reliance also met with Sultan Al Jaber, ADNOC CEO, and discussed opportunities for partnership and growth in new energies and decarbonisation across the hydrocarbon value chain.
Al Jaber and Ambani exchanged a signed framework agreement between ADNOC and Reliance to explore collaboration in decarbonisation of operations, including in CO2 sequestration.
In addition, Ambani also met with Mohamed Jameel Al Ramahi, CEO of Masdar, to explore potential opportunities for collaboration in renewable energy and green hydrogen, both of which are key priorities for the UAE and India.
Ambani was briefed on the UAE's plans to grow its renewable energy portfolio and strengthen its clean hydrogen production capabilities. This is described in the country's "Hydrogen Leadership Roadmap."
In December 2021, UAE revealed it will create a global clean energy powerhouse, under the Masdar brand. This will consolidate the efforts of ADNOC, TAQA, and Mubadala in renewable energy and green hydrogen.
ADNOC will hold 43 per cent of shares in Masdar's green hydrogen business. This is followed by 33 per cent held by Mubadala and 24 per cent by Taqa.