Ulstein Unveils X-Bow Design for RoPax Vessels
Norwegian shipbuilder and designer Ulstein has adapted and expanded its inverted bow design to include RoPax vessels.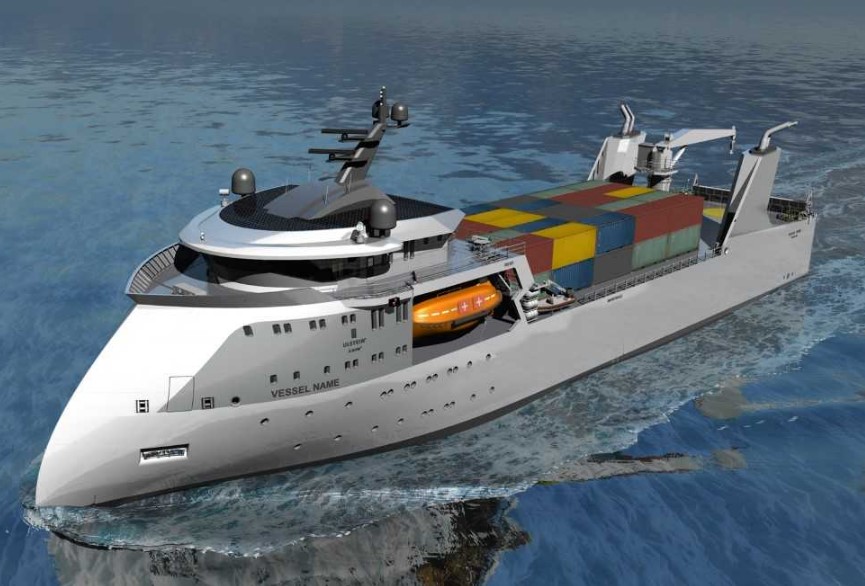 Ulstein's X-Bow design is already in use in a number of different market segments, and is said to lead to improved seakeeping, and reduced speed loss and fuel consumption.
The company said it was adding RoPax designs to its portfolio as many of the vessels operate in harsh areas, for which the X-Bow was originally designed.
The seakeeping behavior of RoPax vessels is important to the integrity of the cargo. In many cases, the movements of a vessel call for a slow-down. This may in turn challenge the regular scheduling of a vessel. Ulstein noted that the X-Bow RoPax vessels would not need to slow down even in fairly rough weather, which would help to keep schedules. This has been proven in offshore vessels, according to the company, where more than 90 vessels are already in operation.
"RoPax is a segment in growth, where we will see fleet renewals in the years to come. We have for some time worked to integrate Ulstein's design mindset into a range of RoPax vessels. These vessels are all equipped with the X-Bow hull feature, a natural choice when operating in climatically rough conditions," Tore Ulstein, COO Design & Solutions, said.
One potential country for the ship construction is China, according to the company.
"More than half of the more than 100 Ulstein designs which have been built outside Norway, have been constructed in China with Ulstein site teams present. We have good relations to our Chinese partner yards and are currently in dialogue with several yards on the construction of these RoPax vessels," Ulstein concluded.