USA: Eagle completes first foreign-flagged vessel LNG bunkering
Eagle LNG's Talleyrand bunker station in Jacksonville has completed the first liquefied natural gas bunkering of a foreign-flagged vessel.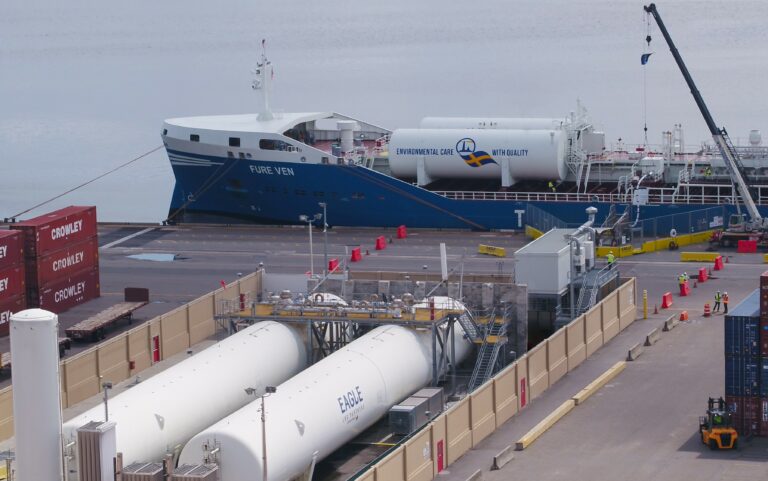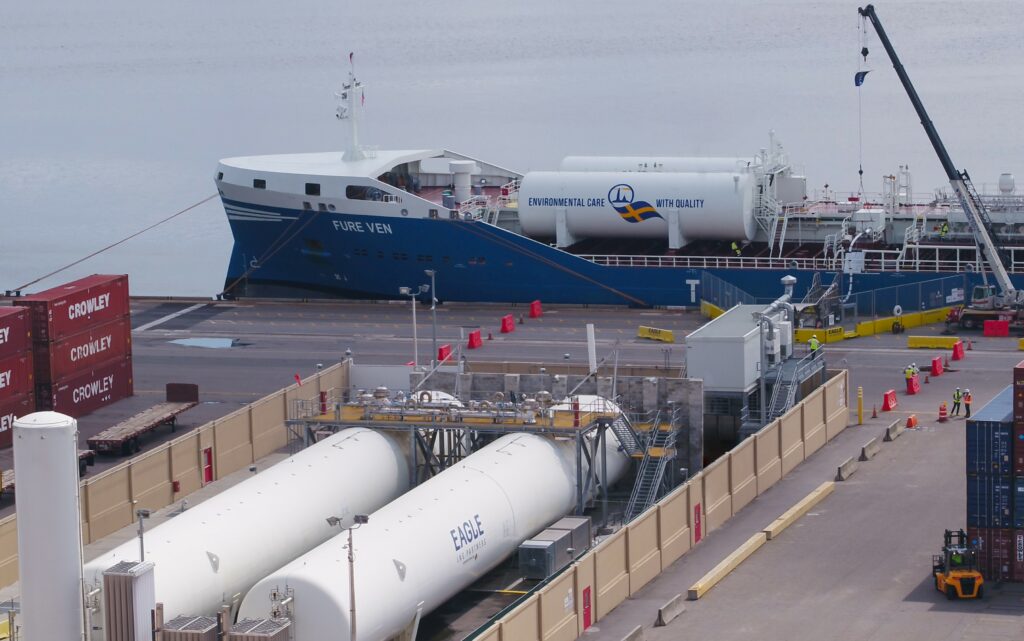 Eagle LNG became the first U.S. company to deliver LNG bunker fuel to a foreign-flagged vessel, Fure Ven, a dual-fuel vessel owned and operated by Furetank of Donsö, Sweden.
GAC, integrated shipping, logistics and marine services provider, said in its statement this milestone paves the way for more international trading vessels to bunker at Jacksonville Port Authority (JAXPORT).
It also builds confidence in the case for LNG to help the shipping industry meet increasingly stringent environmental regulations, while still generating substantial cost savings, the statement reads.
The 18,000 dwt vessel transited the St. Johns River on September 1, calling at JAXPORT's Talleyrand marine terminal which serves Crowley Maritime Corporation.
Eagle LNG Partners transferred 225 metric tonnes of LNG to the vessel from their on-site storage facility, with the bunkering evolution taking less than seven hours to complete. The tanker was laden with renewable diesel cargo for Preem, the Swedish petroleum and biofuels company.
GAC Group assisted all parties by broking the LNG fuel and providing ship agency services to the vessel during her voyage across the Atlantic Ocean.
It was the first time that GAC's Bunker Fuels division had secured a deal to supply LNG as a marine fuel.
Fure Ven is one of Furetank's V-Series, a new generation of product & chemical tankers introduced in 2018.
Lars Höglund, CEO of Furetank, said, "As early as 2014, Furetank decided to convert one of our vessels to LNG propulsion. Backed by the encouraging effects thereof, we developed the V-series, a vessel design with drastically lowered emissions and fuel consumption. These vessels have already cut CO2 emissions beyond the IMO target of a 50 per cent reduction by 2050."