USA: Plans for new deepwater rig repair and refurbishment facility in the works
The Greater Lafourche Port Commission (GLPC) has announced its plans to develop the next generation of deepwater port facilities at Port Fourchon, Louisiana.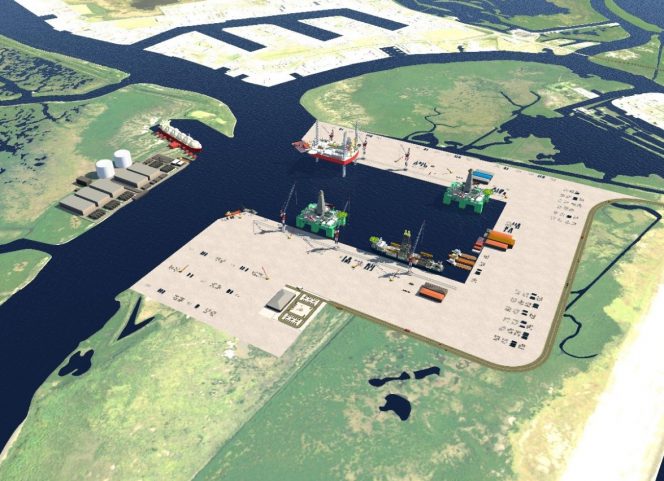 ---
The new facilities would be developed through an agreement signed by the Edward Wisner Donation Trust granting GLPC a lease of over 900 acres of property immediately south of the Port, to be known as Fourchon Island.
Also, the Port of Fourchon submitted to the U.S. Army Corps of Engineers (USACE) a draft feasibility report and draft environmental impact statement following over two years of environmental, economic and engineering studies to determine the feasibility of a deeper draft channel into Port Fourchon.
The port said that the long-term lease between Edward Wisner Donation Trust, as the landowner, and GLPC secured access to a property for the future development of the Gulf's first purpose-built, deepwater rig repair and refurbishment facility. The facility will serve as a maintenance and eventual decommissioning needs for deepwater oil and gas rigs.
While GLPC will deepen the draft to the new facility as well as dredge the slip and build the land and basic infrastructure as part of its Fourchon Island development plan, a private company will eventually construct the rig repair and refurbishment facilities.
City of New Orleans Mayor, LaToya Cantrell, said: "In my role as the Trustee of the Wisner Donation Trust, I am happy to execute a lease which should encourage private investment in our working coast, provide jobs and opportunities for hundreds of residents in our region and which will ultimately construct or restore thousands of acres of wetlands to provide important natural defenses for our city and state."
According to Chett Chiasson, Executive Director of GLPC, the Commission has constructed approximately 1,000 acres of wetlands through its environmental mitigation program, elevated and developed an additional 1,000+ acres which otherwise might have been lost to coastal land loss, and constructed the first successful maritime forest ridge restoration project in the state in line with its holistically resilient approach to development.
Development to begin in 2020
As for the USACE study, it considered the environmental impacts and benefits of deepening the main channel of Bayou Lafourche through Belle Pass from its intersection with Pass Fourchon out into the Gulf of Mexico to a depth of up to 50 feet, to a distance of approximately six miles.
Perry Gisclair, president of GLPC's board of commissioners, added: "Currently, we service over 90% of all deepwater activity in the Gulf, and we know that many of these rigs and platforms that we service were built right here in this region, they are serviced by companies based in Port Fourchon, and now we are two big steps closer to seeing a future tenant add a cutting-edge rig repair and refurbishment facility at the most central and accessible location in the entire US Gulf of Mexico.
"This will help our community to pick up work that currently has to go as far away as Singapore or South Korea to get done, which in turn, will help the U.S. energy industry reduce their costs and downtime when refurbishing their deepwater assets in the coming years."
It is anticipated that the final version of the feasibility report and EIS will be submitted by the end of 2018 and authorized by mid-2019 with development to begin by the end of 2020. Work on some preliminary infrastructure necessary to access the property may begin ahead of the bulk of these works.
Related news
List of related news articles