Van Oord's new cable-laying vessel comes to Dutch shores
Dutch marine contractor Van Oord has taken delivery of the newest member of its fleet, a next-generation, custom-built cable-laying vessel, which arrived in the Netherlands. This vessel is expected to help boost the renewables' expansion, especially offshore wind, propelling the green shift forward.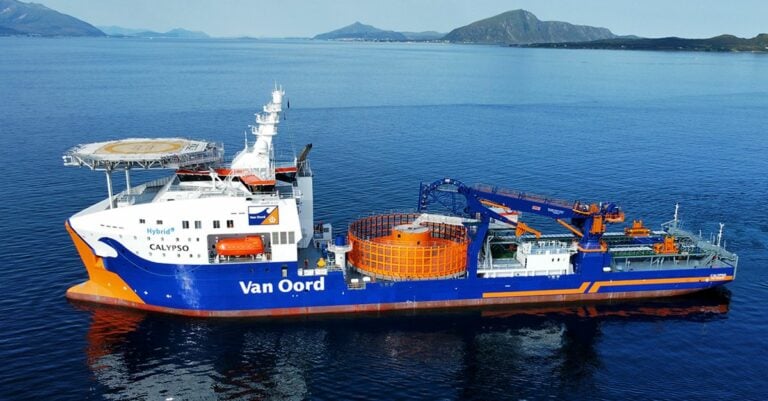 The Calypso cable-laying vessel was handed over to Van Oord on 29 August 2023 upon the vessel's arrival in the Netherlands. This new addition to the Dutch giant's fleet is slated to be christened in Rotterdam next month. The company believes that this vessel will be "a key strategic addition" to its offshore wind fleet, being equipped with the latest sustainable technologies.
"We are thrilled to announce the arrival of Van Oord's brand new cable-laying vessel, Calypso, on Dutch shores! The final construction phase took place at the Vard Brattvaag shipyard in Norway, where the cable-related equipment was installed. Earlier this morning, the vessel arrived in the Netherlands where it will be christened in September," outlined Van Oord.
As the Dutch player provides a range of cable installation activities for the construction of offshore wind farms, the Calypso is the firm's second cable-laying vessel in addition to the Nexus. The latest vessel is fitted with a cable carousel on deck and a second, below-deck cable carousel, with a total cable-carrying capacity of 8,000 tonnes, suitable for laying two cables simultaneously.
According to Van Oord, the Calypso will mainly be deployed to install inter-array grid and export cables for offshore wind projects, including high-voltage direct current cables. The company's cable trenchers can also be operated from the vessel, which has been designed with the latest sustainable technologies in order to reduce its carbon footprint during operations and when on port standby.
Furthermore, Van Oord highlights that the construction of the Calypso in Norway enabled it to secure a Green Loan from Eksfin, a Norwegian governmental enterprise, which stems from the vessel's role in enabling the expansion of renewable offshore energy.
For Van Oord, this is the first time a Green Loan certificate has been issued based on the intended purpose of the vessel in the energy transition. The financing is provided as a corporate loan and will be partially used to fund the final construction milestones of the Calypso and help optimise the Dutch firm's financing structure.
"Suitable for efficiently laying two cables simultaneously, the Calypso will mainly be deployed to install inter-array grid and export cables for offshore wind projects, playing a key role in the expansion of renewable energy," concluded Van Oord.
The Dutch giant has already worked on multiple offshore wind projects. At the end of July 2023, Van Oord wrapped up the operations covering the installation and burying of inter-array cables at CrossWind's Hollandse Kust Noord offshore wind farm in the Dutch North Sea.