Audit finds heavily corroded grating aboard Equinor's Veslefrikk oldsters
Workers aboard Equinor's Veslefrikk offshore platforms in Norway walk on a heavily corroded grating, are not properly protected from potentially carcinogen chemicals exposure, are exposed to noise-induced hearing damage, and to risks of "musculoskeletal" problems due to heavy manual valves.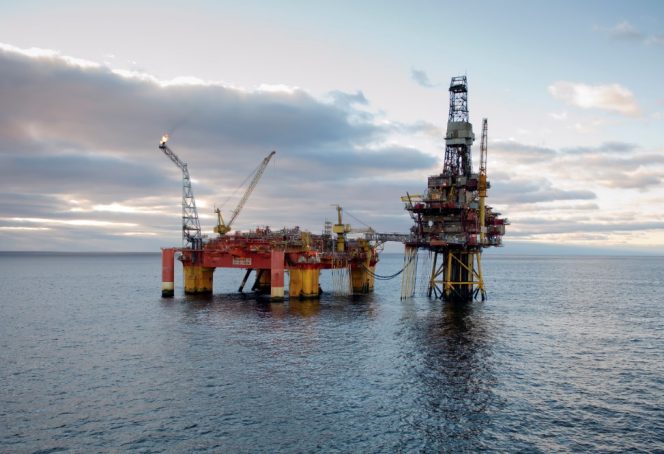 ---
These are some of – in total twelve – irregularities identified by the Norwegian Petroleum Safety Authority during an audit aboard the Vesslefrikk A and Veslefrikk B platform in April.
The Veslefrikk field is 30 years old and it came on stream on December 26, 1989, as the first development off Norway to use a floating production unit. The field consists of a semi-submersible structure Veslefrikk B which is tied to a fixed steel wellhead platform – Veslefrikk A, and Equinor (then known as Statoil) in 2017 decided to prolong the field life till 2025.
During the audit, the PSA inspectors found heavily corroded grating in walkways and areas where workers regularly move, work and operate.
According to PSA, interviews with workers revealed that there was great uncertainty about residual strength of the corroded grating and about the safety during travel and material handling in some areas.
"The corrosion had come so far that we considered [the grating] as unsafe to walk on…" the PSA report reveals.
These are areas where personnel regularly move, work and operate and handle heavy materials. Apart from the corroded gratings, the safety body found some handrails were "temporarily" replaced by scaffolding which, interviews have revealed, has been in place for "many years."
The PSA has noted that scaffolding is not designed for permanent use, and should be subject to periodic checks. PSA could not confirm if these periodic checks were being carried out.
Carcinogen chemicals, hearing damaging noise
Furthermore, the audit revealed, "it was not sufficiently ensured that personnel was not exposed to carcinogen chemicals at Veslefrikk."
It also found that that use of respiratory protection "varied," even during work that involves the risk of benzene exposure.
Apart from this, the safety body found that some workers were exposed to noise levels that could potentially damage their hearing. The safety body said that while some form of hearing protection was used in combination with time restricted "residence" in the noisy areas, this should not be seen as a permanent measure and "more robust" protection measures should be explored.
Overall, the safety watchdog identified non-conformities regarding risk of noise-induced hearing damage, risk of chemical exposure, risk of musculoskeletal disorders, time necessary for safety work, access to offshore crane, and deck gratings in gangways and deck areas. Other non-conformities were related to materials handling, offshore cranes, launching arrangements for Veslefrikk A, maintenance of unsecured lifting equipment, maintenance of guardrails, and performance of lifting operations.
Equinor has been given a deadline of August 18, 2019, to report on how the non-conformities will be addressed.
---
Spotted a typo? Have something more to add to the story? Maybe a nice photo? Contact our editorial team via email. Offshore Energy Today, established in 2010, is read by more than 10.000 industry professionals daily.
We had almost 9 million page views in 2018, with 2.4 million new users. This makes us one of the world's most attractive online platforms in the space of offshore oil and gas.
These stats allow our partners advertising on Offshore Energy Today to get maximum exposure to their online campaigns. If you're interested in showcasing your company, product or technology on Offshore Energy Today contact our marketing manager Mirza Duran for advertising options.