Iridium Can Be the Backbone of Digital Ships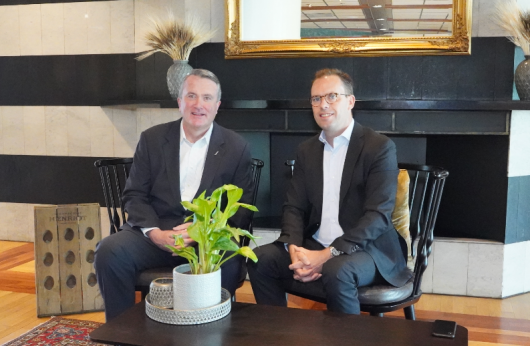 US-based satellite communications company Iridium Communications Inc. along with its partner Lars Thrane, unveiled at the Nor-Shipping event held in Oslo, Norway, last week their first terminal designed to operate on the Iridium network for Global Maritime Distress and Safety System (GMDSS) vessel carriage requirements.
GMDSS is a set of protocols, equipment and communications systems designed to ensure that if a ship is in distress, aid can be dispatched from anywhere in the world.
The unveiling of the Lars Thrane (LT) 3100S terminal comes a year after Iridium became the second-ever global satellite provider of GMDSS services to be recognized by the International Maritime Organization's (IMO) Maritime Safety Committee (MSC) next to Inmarsat.
The official recognition was given by the IMO in May 2018 following a lengthy approval  process. With several activities in motion in the implementation stage, Iridium plans to launch the GMDSS service in January 2020.
The company's Bryan Hartin, Executive Vice President of Sales and Marketing, and Wouter Deknopper, Vice President & General Manager, Maritime Business, spoke with World Maritime News about the terminal and the company's plans in the maritime sector at the sidelines of the Nor-Shipping.
During the implementation phase the terminal will have a goal of receiving certification from the International Mobile Satellite Organization (IMSO), as well as integrating with Rescue Coordination Centres (RCCs) around the world and testing the system with each of these. Additionally, the process will include integration with maritime safety information (MSI), and a few other requirements needed for IMSO certification.
"This is the first terminal designed to provide truly global GMDSS services and is the first to be offered after the International Maritime Organization's decision to recognize Iridium as just the second-ever satellite provider for this critical service," the company said announcing the terminal.
World Maritime News Staff