Waveram concludes tank tests for streamlined wave energy device
The Waveram project consortium, led by Ireland-based company Waveram, has recently completed a tank testing campaign at FloWave, as part of the first phase of the EuropeWave program.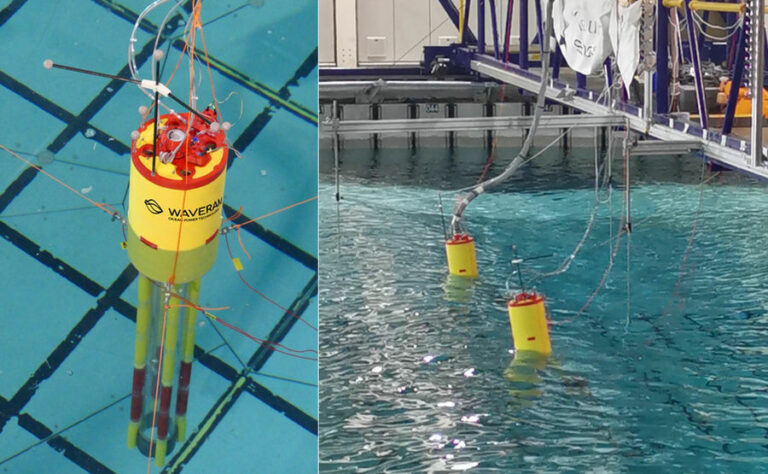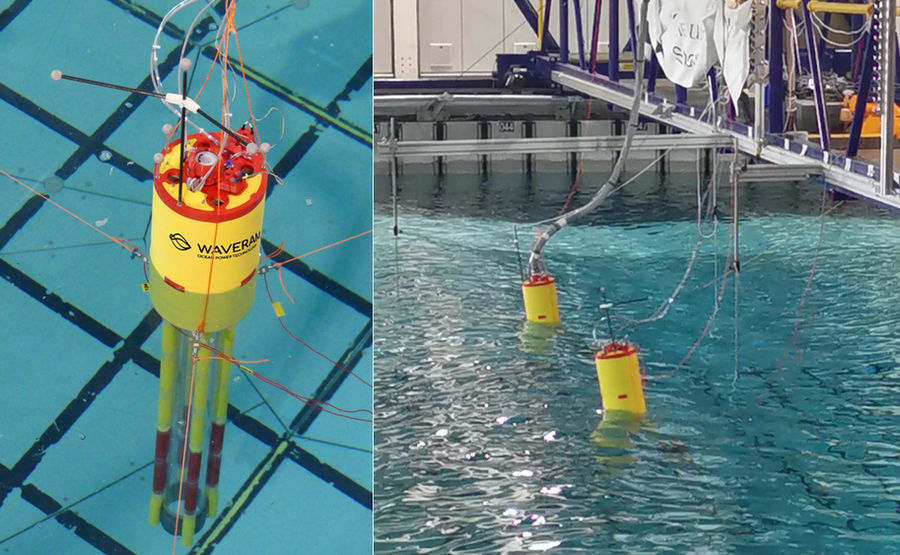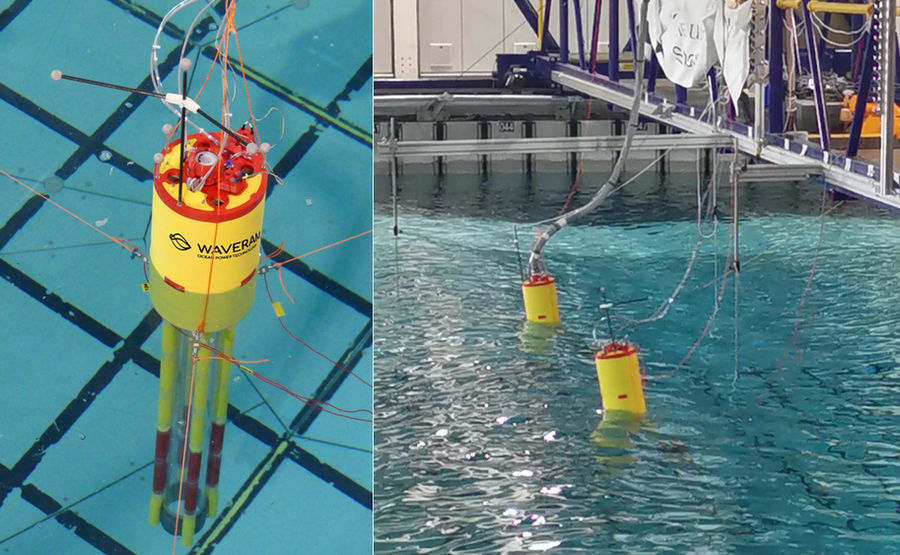 The testing campaign was the company's first opportunity to physically test the updated Waveram design. The tank trials, led by Waveram's consortium partner 4c Engineering, consisted of validating numerical models, simulating survival strategies, and assessing loads and device motions.
As scaling a pneumatic power take-off (PTO) to such a small device presents challenges, two hydrodynamically identical models were used to conduct the tests, according to Waveram project developers.
One incorporated a representative PTO complete with external air volume compensation located on a gantry above the model, while the second incorporated a simple calibrated orifice plate (without external air volume compensation) so as to not interfere with the body motions.
Tests were conducted with regular waves, irregular waves, and survival conditions, in compliance with the International Electrotechnical Commission (IEC) standards.
"The rich dataset captured from both models has enabled validation of numerical models and performance projections as well as providing insights into the behavior of the internal water column and the influence of various control strategies. The next step will focus on testing and integrating the Waveram power train in a relevant environment," Waveram project developers said.
The Waveram device is a single-bodied, seaworthy, spar buoy, designed for utility-scale arrays in the most energetic deep-water offshore sites, such as the Atlantic off the West of Ireland and similar ocean sites in the Americas and Australasia.
A surface-piercing float supports a neutrally buoyant inertial mass of seawater and the ballast required for the design displacement. This combination of buoy, inertial mass and ballast is arranged to hold an internal column of seawater, open at the bottom and enclosed at the top within the float.
An air plenum between the two is connected to a high-pressure accumulator. As the spar buoy oscillates in heave it reacts, via the air plenum, against the internal column of water. This action pumps air into a high-pressure air accumulator, sufficiently large to ensure a close-to-steady air flow through air turbines.
These turbines will operate at high RPM, driving switched reluctance generators, thus providing simple, compact, and robust power trains. All moving parts will be securely housed above the waterline, and suitable for in-factory servicing and quick replacement, according to Waveram project consortium.
Aside from Waveram, and 4c Engineering, the project consortium also includes Tecnalia, and Core Marine.
To remind, Waveram was one of the seven project supported by €20 million EuropeWave scheme.
Developed in partnership between Wave Energy Scotland (WES) and the Basque Energy Agency (EVE), the five-year collaborative R&D funding program EuropeWave has been set up to procure the most promising wave energy technology solutions from developers across Europe and beyond.
Follow Offshore Energy – Marine Energy on LinkedIn