WinGD: Everybody Is Looking into LNG as Marine Fuel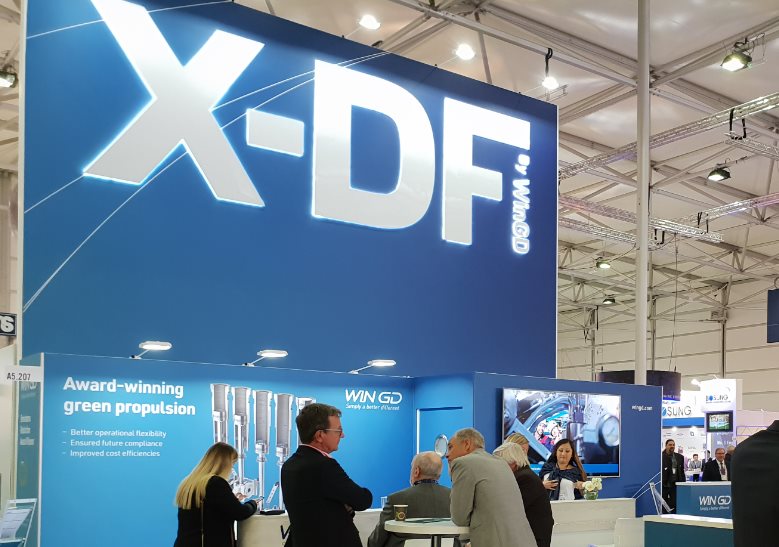 Liquefied natural gas (LNG), a topic which is getting more traction in the market, is one of the most appealing marine fuel options ahead of the International Maritime Organization's (IMO) upcoming 2020 sulfur cap, according to Rolf Stiefel, Vice President Sales & Marketing at Winterthur Gas & Diesel Ltd.
In an interview with World Maritime News at the SMM tradeshow in Hamburg, Stiefel said that changing the fuel to LNG would not only solve the problem with compliance with the Sulphur cap 2020, but it would also reduce shipping's overall emissions dramatically.
He explained that adopting LNG as marine fuel is still new and it requires a new set of equipment on board, a new set of safety rules, and new sets of operation.
Commenting the shipowners' willingness to invest in LNG as fuel, Stiefel said that everybody is looking into it and doing studies.
"We have had many discussions with shipowners. Most players in the market consider this to be the mid- and long-term solution to get shipping clean."
"Although LNG as fuel is the right solution for newbuildings, it is not always suitable for retrofits. Adapting existing ships to run on LNG ships can be a complex process and may not be viable for many ship owners," he explained.
The number of orders for LNG-fueled ships is increasing steadily and more are yet to come. Citing data from Claksons, Stiefel said that the number of new ships ordered these days is far less compared to a few years back.
"We need to stay patient and wait for the number of orders for new ships to take off. We are convinced that then the LNG-fueled ships will follow. An area which is already running very well is the LNG carrier because they need the tankers to ship the LNG, and there we have the most of our orders for X-DF engines for this year."
In July 2018, WinGD celebrated the order for its 100th X-DF engine. The company needed three years to reach the 100 milestone, but in just a few months until the start of September WinGD's orderbook increased by another 25 engines, proving that the shipping industry is embracing LNG as fuel.
"The demand is definitely present. It is difficult to predict the orderbook for the entire year, but I can say that it will depend on the pricing of fuel. As long as LNG is available on a commercially attractive basis, newbuilds will predominantly adopt LNG-fueled engines."
In an effort to enable the industry to move faster in that direction, WinGD decided to collaborate with French LNG containment tank producer GTT and Finnish marine technology Wärtsilä.
The three companies earlier launched a cooperation on an order to provide equipment for CMA CGM's new 22,000 TEU containerships, the first of their size to use LNG as marine fuel. With LNG, the sulfur emissions on these ships would decrease by 100 percent, while WinGD's X-DF engines will secure that the nitrogen oxide emissions will reach only one third of the average Tier 3 limits, reducing nitrogen oxides by 95 percent. LNG would also help the shipping industry to reduce its CO2 footprint by roughly 20 percent, as this fuel has less CO2 emissions than burning liquid fuels, he explained.
Speaking about the main challenges and concerns in designing engines powered by LNG for such large vessels, Stiefel said that from an owners' and operators' perspective, "the biggest concern is – does this technology really work?"
"They are investing in a ship which is over USD 150 million in asset value and they need to ensure that this equipment is going to be reliable and safe, not only when it is delivered, but also over a period of at least 20 years of operation."
When asked about the development progress of the engines for CMA CGM's new giant, Stiefel said that the engine builder has already started the construction process for the larger parts of the engines half a year ago.
The actual assembly of the dual fuel engines, which will be the biggest ever manufactured, is going to start at the beginning of 2019. Following extensive tests scheduled to take place from May until late summer of 2019, the first engine is scheduled to be installed on the first containership from the batch in autumn 2019. This vessel would then set sail in commercial operation around mid-2020.
Stiefel believes that LNG will likely be the preferred solution for compliance with the upcoming regulation for newbuilds. The more newbuilds that use LNG, the lower the emissions of the shipping industry will be.
However, shipowners need to look for different solutions for the existing fleet. Only a small portion of these vessels can undergo LNG retrofits, the majority could opt for compliant fuels, while large vessels can go with scrubbers.
Commenting on further research and development plans, WinGD said that it has made major investments into the technology of LNG-fueled engines and is also constantly investing into improving the efficiency of its engines.
"We will continue to develop our X-DF engines and look into increasing the efficiency of the propulsion system of the ship in general. We are working on certain hybrid solutions, to integrate electrical equipment to optimize the propulsion system of the ship. This is something which is not only related to the engine, it concerns the whole propulsion system and there will be more cooperation with industry players in this field in the future."
The company earlier signed an agreement with Hyundai Heavy Industries to integrate digital technologies to provide greater insight and benefit to ship owners from their engine and ship data.
WinGD explained that the role of smart technology and diagnostics for ship owners is twofold, including the optimization of operation conditions of the equipment on board and working with digital solutions towards a predictive maintenance system.
"Maintenance on ships is currently undertaken according to a time schedule, for example, every five years for certain parts etc. This can be a waste of both time and resources, as sometimes it is too early or too late and you do not always have optimum conditions."
"We offer the opportunity to monitor the condition of the equipment and to give advice to the ship owner and operator as to when to change a certain part to cut overall costs."
Commenting on the future of fuels, Stiefel said that the company is currently engaged in a research and development project, Hercules-2, funded by the EU, launched to test different kinds of fuels. He explained that, although LNG might the be right way to go now, it is still a fossil fuel. Keeping in mind the 2050 target, the Hercules partners are looking at other fuels, such as bio gasses, methanol, ethanol, all kind of bio diesels, bio oils, which could be a scenario going beyond 2020, 2030, 2040.
Interview by Erna Penjic, Editor at World Maritime News