Wison kicks off topsides fabrication for Eni's Congo FLNG unit
Chinese shipyard Wison Heavy Industry, a subsidiary of Wison Offshore & Marine Limited (WOM), has started the fabrication of topsides as a new milestone in the construction of Eni's Congo-bound floating LNG (FLNG) unit.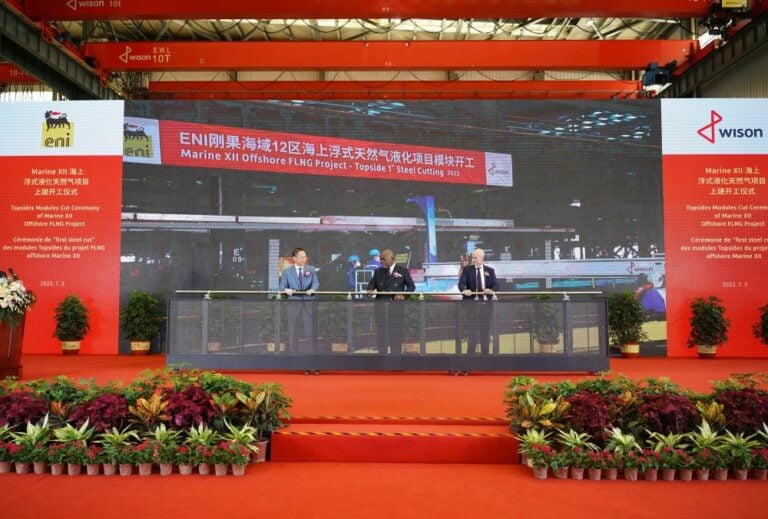 The start of topsides fabrication was marked with a steel-cutting ceremony held on 3 July at the Zhoushan yard in China with more than 200 people attending the ceremony.
At the end of 2022, Eni contracted the Chinese shipyard for the construction of the 2.4 million tonnes per annum (mtpa) FLNG unit to be deployed offshore the Republic of Congo to increase production and export.
The official construction of the unit began on 17 January 2023 and is advancing according to the plan with the fabrication of storage tanks and the hull underway.
The 380-metre-long and 60-metre-wide FLNG unit will be anchored at a water depth of around 40 metres in the Nene Marine Field area, around 50 kilometres offshore Pointe Noire. It will be able to store over 180,000 cubic metres of LNG and 45,000 cubic metres of LPG.
This will be the second FLNG facility to be deployed in Congo – the first one being Tango FLNG of 0.6 mtpa capacity – with LNG production expected to begin in 2023.
Both projects are part of the Marine XII gas valorisation plan, in line with Eni's strategy to leverage gas equity.
With the second project, the overall LNG production capacity on Marine XII will reach 3 million tons/year (over 4.5 billion cubic metres/year) in 2025.
Follow us: