Woodmac: New kids on North Sea blocks spark new momentum
A new wave of privately backed oil firms has taken over the North Sea basin by storm spurring record M&A activity over the past few years.
Wood Mackenzie has this week said that equity commitments of $10 billion have helped fuel $12 billion in M&A in the North Sea since 2014. Another $13 billion could be invested in the North Sea, based on disclosed funding.
As part of his presentation at this year's ONS event in Stavanger, Woodmac's Neivan Boroujerdi, senior research analyst, North Sea upstream, and Greig Aitken, director, M&A research, took a close look at eight of the North Sea's PE-backed entrants, identifying the strategies, challenges and potential exit routes they could employ.
Between the new players, the eight companies examined – Azinor Catalyst, Chrysaor, Neptune Energy, Siccar Point, Vår Energy, Verus Petroleum, Wellesley Petroleum and Zennor Petroleum – will contribute 550,000 barrels of oil equivalent to North Sea production this year.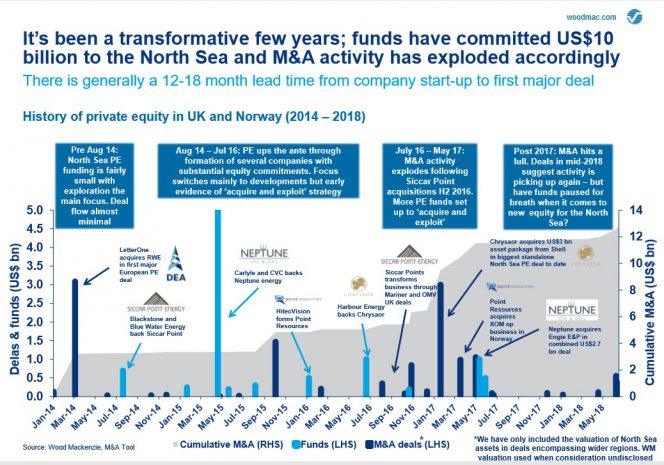 Two approaches
Wood Mackenzie's research found that, while company strategies vary, North Sea PE-backed companies generally adopt one of two approaches. An "acquire and exploit" approach sees them take on under-capitalized assets and exploit upside, by optimizing production and lowering costs. The "lease and drill" strategy, on the other hand, is largely exploration-focused, targeting appraisal upside and development in a low-cost environment.
Boroujerdi said: "Regardless of the chosen strategy, private equity companies eventually need to achieve a successful exit. There are a number of options. Some may choose a secondary private equity or trade sale."
"For larger companies, an IPO is most likely, given the corporate landscape and lack of major buyers. For a successful IPO, companies need have a strong growth story – both volume and value – that will underpin future returns, as well as a clear and differentiated investment thesis, and a proven track record.
Upstream industry winning
"While private equity-backed companies will invest more than US$10 billion in development capital over the next five years, this needs to increase to meet ambitious growth plans. However, PE-backed firms face the same growth challenges as other companies active in the North Sea: development risk, declining portfolios, and a competitive M&A market."
He added: "Other than relying on increases in oil prices, not every company can win in such an environment. But the upstream industry is certainly winning. The influx of private equity investment has sparked a new momentum in the North Sea, revitalizing assets, extending the life of fields and igniting animal spirits."
Related news
List of related news articles