Workers protest against HHLA's partial sale to MSC
In a show of collective dissent, hundreds of employees of Hamburger Hafen und Logistik AG (HHLA) rallied on Tuesday to protest against the proposed partial sale of the company to the Swiss container shipping giant, MSC (Mediterranean Shipping Company).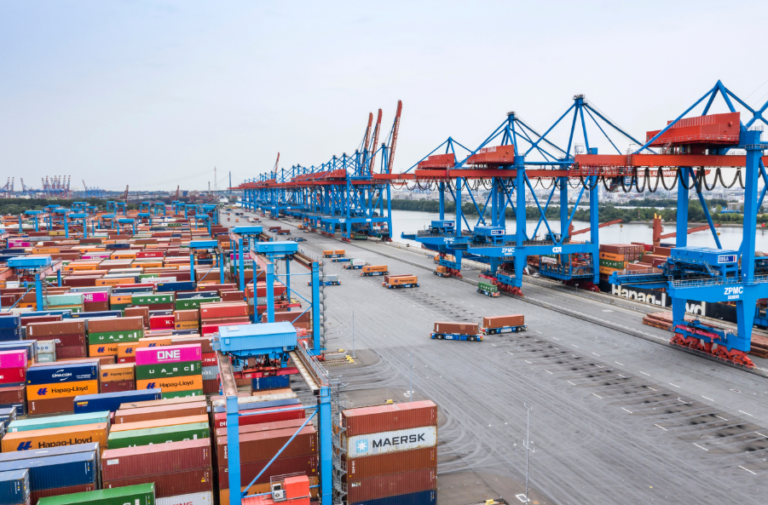 The demonstrators marched from the HHLA headquarters in the historic Speicherstadt district to the Rathausmarkt in a vocal and highly visible display of opposition.
The HHLA workers were joined by mooring workers and employees of the handling companies Eurogate, Hochbahn, and Bäderland.
The ver.di union, which led the demonstration under the banner "Our port – not your casino!", estimated the number of participants to be around 2,500.
The employees are worried about the involvement of shipping companies in port operations, primarily amid fears that such associations may elevate the demands on labor conditions, pricing structures, and employment opportunities. They believe the company should remain in public hands being a critical infrastructure for trade.
One week ago, the City of Hamburg and the container shipping giant MSC unveiled their collaboration plans, where the Swiss company would become a stakeholder in HHLA. Presently, the city possesses approximately 69 percent of the publicly listed HHLA. Going forward, this arrangement will be administered through a collaborative joint venture, with the city maintaining a 50.1 percent stake, and MSC securing 49.9 percent of the shares.
This strategic acquisition covers all aspects of the HHLA group, including its rail logistics subsidiaries, Hamburg terminals, and overseas container terminal assets in Tallinn-Muuga, Odesa, and Trieste. Notably, third-party stakes in individual terminals will remain unaffected at the HHLA holding level, according to Alphaliner.
In addition to the financial transaction, MSC has committed to boosting employment opportunities and container throughput at the Port of Hamburg. This includes MSC's commitment to increasing annual container movement by 1 million twenty-foot equivalent units (Mteu) through HHLA terminals in Hamburg, as reported by Alphaliner.
Furthermore, the Swiss-Italian group intends to relocate its German liner shipping headquarters from Bremen to Hamburg.
The takeover offer is pending approval from relevant competition and regulatory authorities, as well as the Hamburg state parliament (Hamburgische Bürgerschaft).