World's first: On-board ammonia cracking system generates pure hydrogen
Spanish hydrogen transport solutions provider H2SITE has commissioned the world's first on-board ammonia cracking system, generating high-purity hydrogen coupled with a PEM fuel cell which is used to produce electricity for the ship's auxiliary consumptions.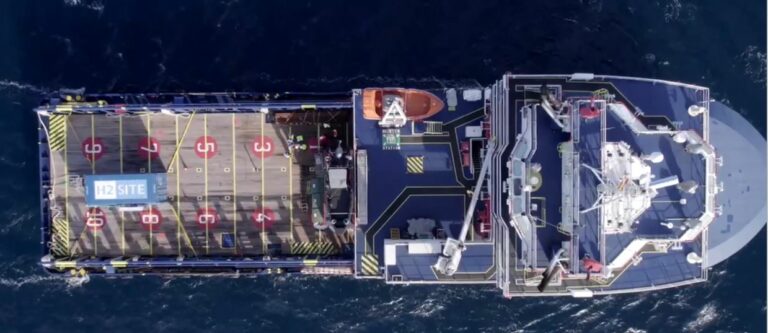 The company shared the milestone on November 21, explaining that an integrated membrane reactor was installed and operated on board the BERTHA B supply ship sailing the shores of the Gulf of Biscay.
H2SITE said its membrane reactors ensure that all the ammonia is transformed while delivering high-purity hydrogen to the fuel cell in a single process step.
During navigation, as part of the H2OCEAN project, H2SITE's cracker powered the ship's auxiliary services. For this project, the company collaborated with players active in the maritime decarbonization segment such as Zumaia Offshore, Erhardt Offshore, Ajusa, and TECNALIA, along with the participation of Enagas and ABS.
"Our innovative membrane reactor technology not only brings an improvement in system efficiency but also reduces the footprint of the installation. This is especially important in applications where space is limited, such as onboard a vessel," said Jose Medrano, Technical Director at H2SITE. "We have focused our design efforts on minimizing the ammonia consumption, which will be key for the scale up to suit higher power output units."
H2SITE was established in 2020 and owns technology for reactors and separators, facilitating the conversion of various feedstocks into hydrogen. These include ammonia, methanol, or synthetic gas, as well as the separation of hydrogen from gaseous mixtures in low concentrations for applications in salt caverns or geological hydrogen.
Japanese shipping company Mitsui O.S.K. Lines (MOL) is also working on a project that aims to harness offshore wind energy to produce hydrogen from water onboard and convert it into propulsion for vessels.
Last year, Finnish technology group Wärtsilä entered into a joint development agreement with Hycamite TCD Technologies to develop cost-effective production of hydrogen from liquefied natural gas (LNG) onboard marine vessels.
New York-based hydrogen company H2 Industries and naval architecture firm TECHNOLOG Services also developed 3D designs for a concept ship that collects plastic waste and converts it into clean hydrogen.