17 companies embark upon GoodShipping's insetting initiative
Seventeen companies are collaborating with shipping company Samskip to reduce carbon dioxide emissions by using sustainable biofuel to ship their products on board Samskip's vessels.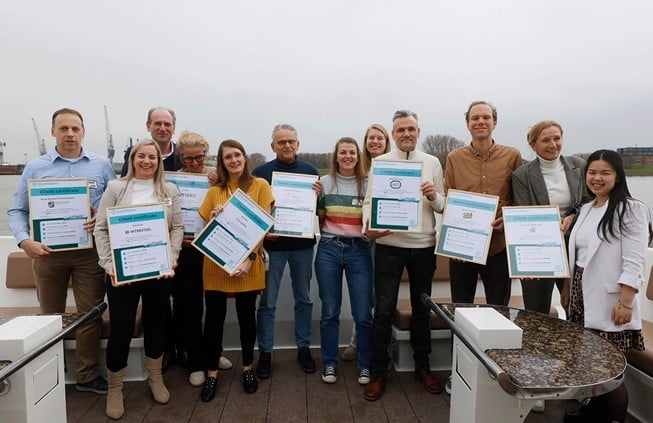 The initiative, called "insetting," is promoted by GoodShipping, which provides the opportunity for shippers to transport their freight sustainably, reducing their carbon footprint.
Shippers often transport small numbers of containers on different vessels and can use insetting to reduce a certain amount of CO2 via GoodShipping, which allows for the CO2 neutral transport of cargo by providing a vessel with sustainable fuel.
The project is expected to result in a reduction in CO2 emissions equivalent to 2023 tonnes of CO2.
This initiative is part of the "Switch to Zero" campaign launched by the Port of Rotterdam Authority and GoodShipping to encourage companies to transport their sea freight using sustainable fuel.
The participating companies include Dille & Kamille, Swinkels Family Brewers, Yogi Tea, Beiersdorf, Bugaboo, Otto Group, K2 Forwarding, Yumeko, NINE & Co., De Kleine Keuken, Royal van Whije Verf, Intersteel, OMyBag, Regent Ingredients, Dopper, Johnny Cashew and Anchor International.
"Shipping is not yet on schedule to be CO2 neutral by 2050, even though it is technically feasible. It is therefore good that shipping, as well as industry, in Europe will soon pay for CO2 emissions through the ETS. This encourages sustainability, as it makes environment- and climate-friendly alternatives more attractive financially. However, this is only possible if such alternative options are offered," Allard Castelein, Port of Rotterdam Authority CEO, said.
"Therefore, we are working with partners to develop initiatives to help make logistics more sustainable: from battery-powered inland shipping to shore power for sea-going vessels, and from bio-kerosene production for aviation to so-called Green Corridors for sea-going vessels."
"We've seen a huge acceleration in the pace of the energy transition brought about by shippers over the past two years, which is why we want to give more companies the opportunity to have their freight shipped sustainably. The offer made by the Port of Rotterdam Authority, which aims to be the world's most sustainable port, to support us in this was therefore easy to accept. With the Switch to Zero campaign, we're making it easy for companies to enhance the sustainability of their transport without complex supply chain adaptations," Dirk Kronemeijer, founder of GoodShipping, added.
GoodShipping already works for companies including DHL, IKEA, BMW, Tony's Chocolonely, Beiersdorf and Bugaboo. The company uses fuel produced from certified sustainable flows including frying oils and animal fats that are labelled as 100% waste and cannot be used in higher-grade products.