1st of four LNG-powered LR tankers joins Hafnia
Singapore-based tanker owner and operator Hafnia has kicked off the year with the delivery of the first of four new dual-fuel LR2 product tankers.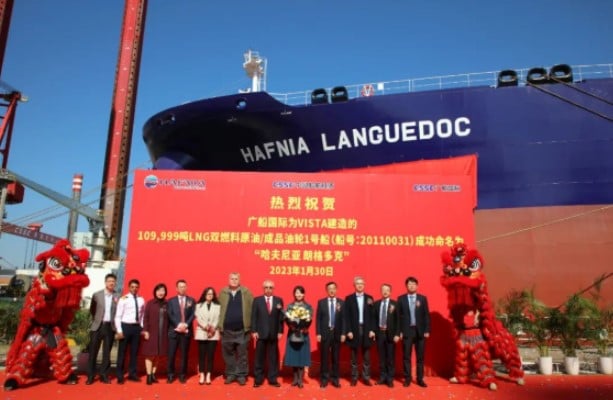 Guangzhou Shipbuilding International (GSI), a subsidiary of China State Shipbuilding Corporation, delivered the LNG-powered Hafnia Languedoc at a naming and delivery ceremony held on January 30.
The 110,000-ton crude oil-product tanker adopts a new generation of LNG dual-fuel LR II ship design independently designed and developed by GSI with a special focus on green and low-carbon features.
Hafnia Languedoc is the first of four LNG-fuelled LR2 product tankers the company ordered through its JV company with CSSC (Hong Kong) Shipping – Vista Shipping.
The second vessel from the series, Hafnia Loire is expected to follow suit in April 2023.
All four units are set to complete delivery in 2024.
LR2 tankers typically have a deadweight tonnage (DWT) of around 80,000 to 120,000 tons and are capable of transporting crude oil and oil products over long distances.
All four vessels are equipped with a fuel gas supply system that has full redundancy on all supply systems and which can handle boil-off gas from the LNG tanks under any condition. According to the shipping company, the vessels' auxiliary engines, gensets, and boilers will be able to run on multiple fuel types.
All four ships will be classed by DNV and will sail under the Maltese flag.
Upon its delivery, Hafnia Languedoc will be employed by global oil and gas major Total. The remaining three ships will also be chartered out to Total and Equinor.
Hafnia has a fleet of 230 vessels, out of which 115 ships are owned and 102 are operated. The shipping company has set a target of reducing the carbon intensity of its fleet by 40 percent by 2028 when compared to the 2008 level.