2nd of four MOL's LNG-fueled ferries hits the water
Sunflower Murasaki, the second of four LNG-fueled ferries ordered by MOL Group, was launched and named earlier today at a Mitsubishi Shipbuilding's yard in Shimonoseki-shi, Yamaguchi Prefecture.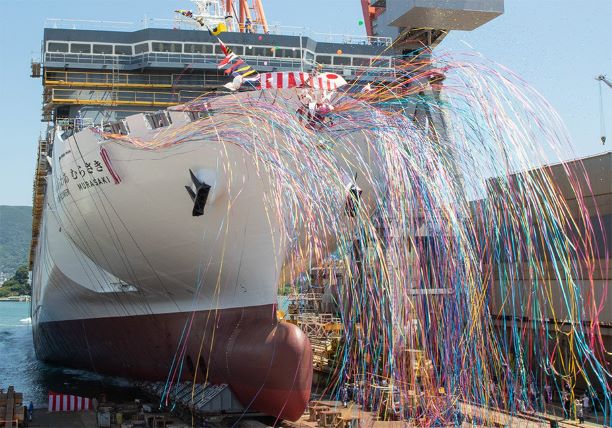 Sunflower Murasaki and its sister vessel Sunflower Kurenai, which was named in March 2022, are Japan's first LNG-fueled ferries.
The vessels were ordered back in 2019. They are fitted with dual-fuel engines and are expected to cut CO2 emissions by 20% and virtually eliminate sulfur oxide emissions when compared to the current vessels in use on the route.
After delivery from Mitsubishi Shipbuilding in March 2023, Sunflower Murasaki is slated to enter service on the Osaka-Beppu route, as an alternative to the vessel currently in service which is operated by Ferry Sunflower Co.
Two more LNG-fueled ferries are expected to follow suit and they are slated for delivery in 2025. MOL hired Naikai Zosen Corporation for the job earlier this year. Naikai Zosen has developed an energy-saving device called the Spray Tearing Plate which will be installed on the new ferries to further boost energy efficiency of the ships.
Once delivered, they will be operated by MOL Ferry Co. on the Oarai-Tomakomai route.
MOL is pursuing wider use of LNG on its ships as part of its decarbonization efforts the objective being to become net-zero by 2050. The strategy lays out steps that will see MOL gradually introduce alternative fuels on its ships, starting with LNG. The company plans to launch about 90 LNG-fueled vessels by 2030. Considerable progress on this path is underway, as the ordering tally has hit 16 large vessels and 6 coasters.
Specifically, just last week MOL announced orders for six LNG-fueled vessels, including four 210,000 DWT-class Capesize bulkers and two 309,000 DWT-class VLCCs. The vessels are scheduled for delivery in succession from 2025 through 2026.