ABB to provide power from shore for Equinor's North Sea electrification project
Switzerland-headquartered technology company ABB has secured a deal with Norway's Aibel for the provision of power from shore technology to the Equinor-operated North Sea field, which is expected to curb CO2 emissions.
Back in November 2021, on behalf of the Oseberg licence partners, the Norwegian state-owned giant, Equinor, awarded Aibel a contract for engineering, procurement, construction, and installation (EPCI) for part-electrification of the field, including an upgrade of the processing capacity.
This follows a portfolio agreement for the Oseberg area – covering the period 2020-2026 – which Equinor awarded to compatriot Aibel back in July 2020. At the time, Equinor said that the portfolio agreement aimed to ensure a holistic approach to the planning and execution of projects at Oseberg.
In a statement last Friday, ABB revealed that it had been awarded a contract by Aibel to supply part-electrification of the Oseberg oil and gas field on the Norwegian Continental Shelf, located 140 km – 87 miles – Northwest of the city of Bergen. Based on the terms of the deal, the Swiss player will supply the complete power from shore system for electrification of this field.
Per Erik Holsten, Country Managing Director of ABB in Norway, remarked: "We are very proud to support the energy transition with yet another industrial electrification project estimated by operator Equinor to reduce CO2 emissions by 320,000 tonnes per annum."
The electrification is expected to help the Oseberg Area Unit partners to reduce CO2 emissions by 320,000 tonnes per annum – equivalent to 160,000 cars – while increasing the gas production from the field. According to ABB, the part-electrification with 105 MW largely renewable power will enable phasing out gas turbines and installation of two new 10 MW pre-compressors for gas production.
"ABB is a pioneer in electrification of offshore platforms, starting with Troll on the NCS in 2005. When Oseberg is upgraded, our technology and competence will contribute to a total CO2 reduction on the NCS by 1.5 million tonnes, corresponding to 3 per cent of Norway's total emissions. It is a major contribution to reach the Norwegian goal of cutting CO2 emissions by 50 to 55 per cent by 2030," added Holsten.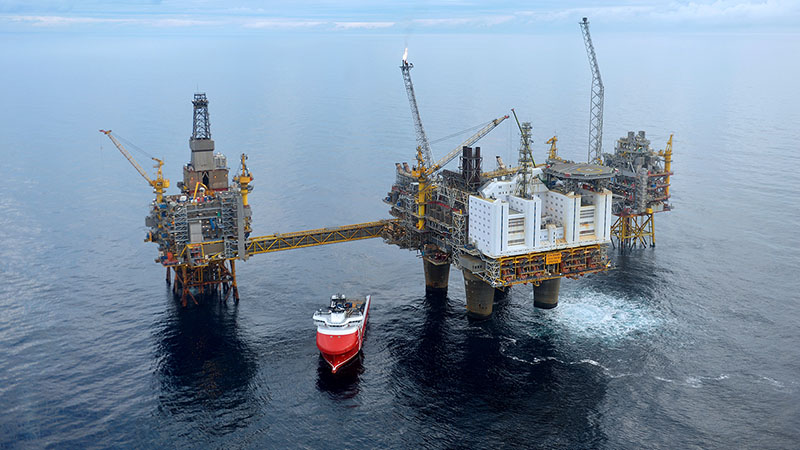 In addition, Holsten elaborated that the benefits from such electrification are not limited to reduced emissions and pollution as "the solution reduces operational expenditures, noise and maintenance, while improving regularity, health, environment, and safety (HES)."
The company further added that it would be cooperating with Aibel in system design and engineering and will deliver the complete power and control systems onshore and offshore. ABB says that the connection is designed for 180 MW high voltage alternating current (HVAC) at 132 kV.
While providing more information on the new electrical system, ABB explained it is composed of onshore power transformer, gas insulated switchgears (GIS), shunt reactor, and offshore transformers, GIS, motors, variable speed drives (VSD), static frequency converters (SFC), low and medium voltage switchgears and a complete power distribution control system (PDCS).
Additionally, the firm confirmed that extensive modification is done to Oseberg A main switchgear for receiving power from shore.
The technology company also informed that the majority of its deliveries are scheduled through 2023 with services like engineering, management and commissioning participation lasting until final commissioning, planned for 2026.
Equinor is the operator of the Oseberg field with 49.3 per cent interest, while other development partners are Petoro with 33.6 per cent, TotalEnergies EP Norge with 14.7 per cent and ConocoPhillips Skandinavia with 2.4 per cent interest.