Allianz: Shipping reports lowest losses, but decarbonization poses an uphill battle
The shipping industry reported the lowest number of large ships lost in a year, according to Allianz Global Corporate & Specialty SE's Safety & Shipping Review 2023.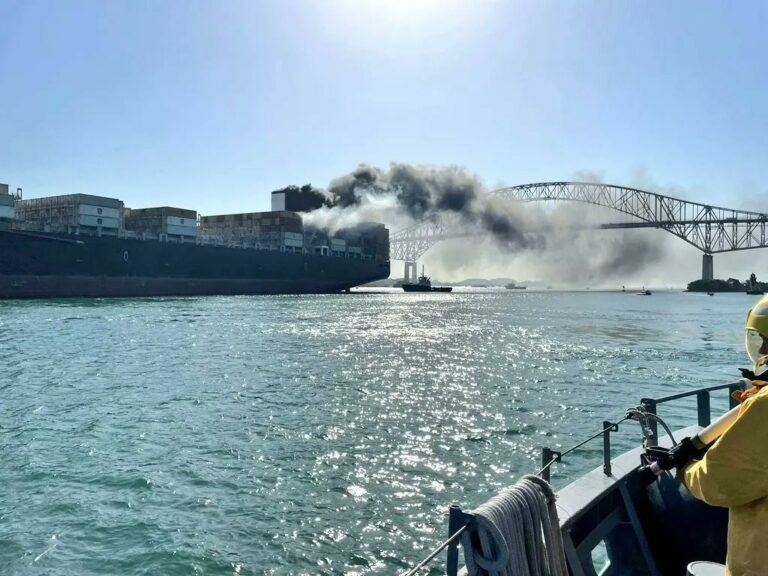 In 2022, there were 38 total losses of vessels worldwide, a significant decrease of more than a third compared to the previous year. The South China Sea region witnessed the highest number of total losses, while the British Isles had the most shipping incidents.
Fire incidents pose a significant concern, with 8 vessels lost and over 200 incidents reported, marking the highest number in a decade. The transportation of electric vehicles and battery-powered goods introduces new fire risks, especially considering the flammability of lithium-ion batteries. Larger vessels and mis-declaration of hazardous cargo further amplify the consequences of fire incidents.
Another safety concern arises from the growth of the shadow tanker fleet, which emerged as a result of oil-related sanctions. This fleet, estimated to consist of as many as 600 older ships operating under lower maintenance standards, poses safety and environmental risks.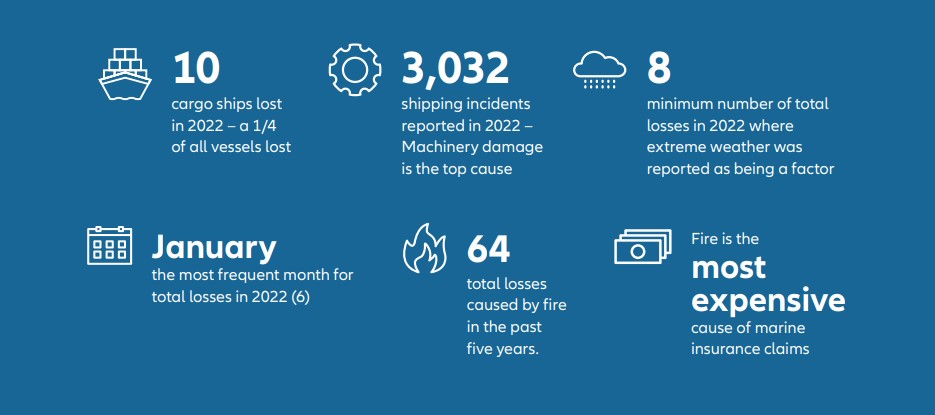 "Shipping losses have sunk to the lowest number we have seen in the 12-year history of our annual study reflecting the positive impact safety programs, trainings, changes in ship design and regulation have had over time," says Captain Rahul Khanna, Global Head of Marine Risk Consulting at AGCS.
"While these results are gratifying, several clouds appear on the horizon. More than a year after Russia's invasion of Ukraine, the growth of the shadow oil tanker fleet is the latest consequence to challenge shipowners, their crew and insurers. Fire safety and the problem of mis-declaration of hazardous cargo must be fixed if the industry is to benefit from the efficiency of ever- larger vessels. Inflation is pushing up the cost of hull, machinery and cargo claims. Meanwhile, although the industry's decarbonization efforts are progressing, this remains by far the sector's biggest challenge. Economic pressures could put vital investments in companies' strategies, as well as in other safety initiatives, in jeopardy."
Moreover, the shipping industry faces increased claims costs due to inflation. These cost pressures could impact the sector's decarbonization efforts and safety initiatives, jeopardizing vital investments in sustainable strategies.
Decarbonization remains the most significant challenge for the industry, as shipping contributes around 3% of global greenhouse gas emissions annually. The sector is exploring various solutions, including the adoption of energy-efficient fuels like liquefied natural gas, as well as alternative fuels such as biofuels, methanol, ammonia, and hydrogen. However, transitioning to carbon-free shipping requires substantial investment and collaborative efforts.
Economic pressures have also resurfaced, as freight rates declined following the post-pandemic boom in container shipping. The question now is whether this, along with the possibility of an economic downturn, will affect maintenance and risk management budgets, potentially leading to increased incidents of machinery damage.
The rising cost of insurance claims is driven by increased commodity prices, higher labor costs, and supply chain disruptions. Steel prices, a key component in hull claims, have surged post-pandemic, resulting in higher repair costs. Obtaining replacement parts has become more challenging, leading to longer repair periods, while labor shortages have further increased expenses.