Amogy concludes Series B fundraising with a total of $150 million
US-based ammonia power solutions company Amogy Inc. has announced its $11 million Series B-2 fundraising joined by Marunouchi Climate Tech Growth Fund, Mitsubishi Corporation, Mitsubishi Heavy Industries America and Synergy Marine.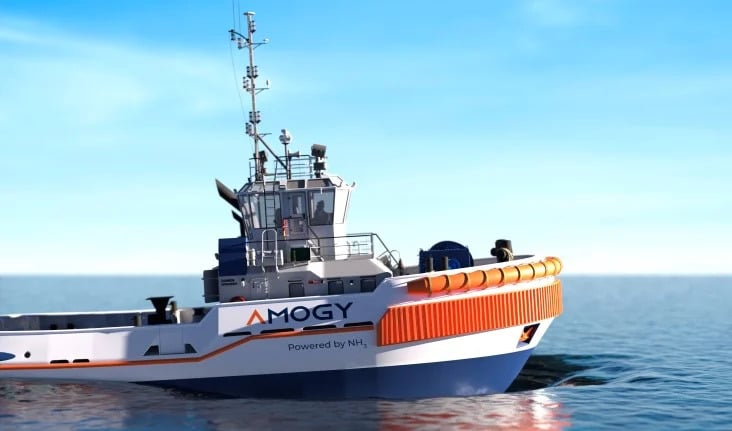 Following the announcement of SK Innovations-led $139 million Series B-1 fundraising in March, Amogy closed its B-2 raise with $11 million extra and thus concluded its Series B fundraising.
The Series B-2 round further propels Amogy's momentum to support commercialization, begin manufacturing of its innovative ammonia-to-power technology, and bring its first product to market in 2024, the company said.
"This additional funding presents the rapidly increasing global interest in our technology and its potential to change the world, taking us one step closer to ammonia-driven decarbonization of heavy industries," commented Seonghoon Woo, CEO of Amogy.
Amogy's ammonia-to-power technology feeds liquid ammonia through its cracking modules integrated into a hybrid fuel cell system, which powers electric motors for zero-carbon transportation including shipping.
The US company plans to present its ammonia-powered, zero-emission tugboat in late 2023 — which is three times larger than the system that was field-tested on Amogy's ammonia-fueled semi-truck earlier this year. Upon the successful sail of the tugboat later in 2023 in upstate New York, Amogy intends to present its first commercial offering in 2024 and more.
"With its ammonia-powered semi-truck and tractor, Amogy has proven that ammonia is a viable and practical option to decarbonize the maritime industry and beyond," said Ichiro Miyoshi, CEO of Marunouchi Innovation Partners (General Partner of Marunouchi Climate Tech Growth Fund). "As the first investment of our newly launched fund, we hope to ensure that Amogy has the resources it needs to help the shipping industry reach its goal of zero emissions."