Artificial island for Windpark Fryslân to be built by September
Zuiderzeewind, a consortium of Van Oord and Siemens Gamesa Renewable Energy, plans to finish building the artificial island near Kornwerderzand, the Netherlands, in September.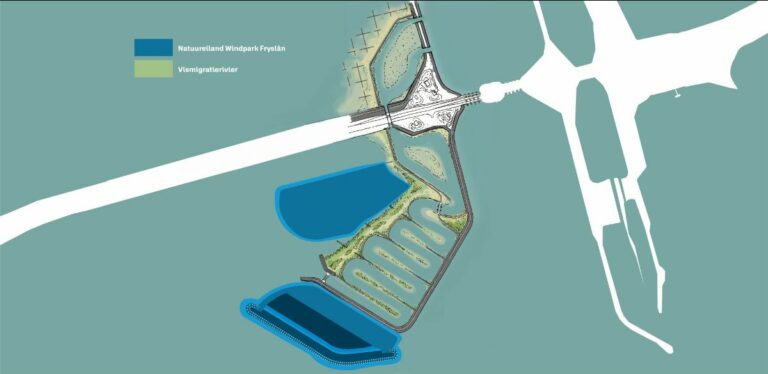 The island, which will first serve as the construction stage for the Windpark Fryslân nearshore project and after that as a nature reserve and a bird sanctuary, is located next to a future fish migration river.
The island has a land area of 2 hectares and a submerged, shallow water area of 25 hectares. The area is protected against waves and currents by a 800-metre dam.
Van Oord's crane vessel Werkendam arrived at the IJsselmeer to start working on building the island in January.
The island will be temporarily used during the construction of the 382.7 MW Windpark Fryslân and, from the moment the wind farm's turbines are up, the island will no longer be used for supporting construction and will turn into a foraging and resting area for birds with an artificial reef for fish.
Windpark Fryslân timeline: Foundation installation to start in September
The installation of the wind farm's 89 monopile foundations will commence in September, with around two foundations put in place per day.
The foundation installation will take place 24 hours a day, seven days a week, and driving each monopile into the seabed will last 30 to 90 minutes. To limit the noise pollution, the construction team will be installing foundations that are close to Breezanddijk only during the day.
All foundations are expected to be in place in January 2021.
Inter-array cable installation is set to start in December and be completed in February 2021.
The infield cables from the wind farm will first come to shore at Windpark Fryslân's own transformer station at Breezanddijk on the artificial island of Breezand. From there, the two cable circuits will be installed and run to Bolsward, where the energy from the wind farm will be delivered to TenneT's Frisian high-voltage grid.
Finally, the installation of the 89 Siemens Gamesa 4.3 MW wind turbines will start in March 2021.
The wind turbine rotors will be transported ready-made on a pontoon to Breezanddijk. Each rotor will then lifted in one piece with a crane and attached to the turbine.
The wind turbines are scheduled to be up and running in the summer of 2021. Once operational, Windpark Fryslân will become the largest wind farm in the world installed in inland water.