Avaroa Cable and Vodafone Cook Islands ink agreement for use of Manatua Cable
Avaroa Cable and Vodafone Cook Islands have signed multi-year partnership for use of the Manatua Cable.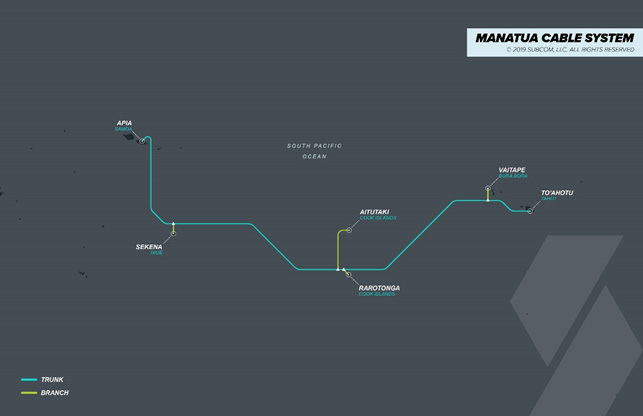 The companies announced that Aitutaki would be the first to benefit with services already transferred to the cable.
The development makes Vodafone, Avaroa and the Cook Islands the first to make use of the ground-breaking 3600km Manatua One Polynesia cable, which was completed last month.
The cable replaces satellite connectivity that had previously connected the island and makes Aitutaki, with a population of just 1700, one of the smallest fibre connected islands in the world.
The announcement coincides with Avaroa Cable becoming the first company to be awarded a telecommunications operating license under the new Cook Islands Competition and Regulatory Authority Act 2019.
The new connection will be followed by new international connectivity for the Cook Islands over the Manatua cable into Rarotonga, from which Aitutaki will also benefit.
The Cook Islands involvement in the Manatua Cable Project has been supported by a grant from the New Zealand Aid Programme and a development loan from the Asian Development Bank.
Honourable Mark Brown, deputy prime minister of the Cook Islands, said: "The Manatua cable is a crucial investment for the Cook Islands and is all the more timely at this very challenging time. I know that the cable will play a vital part of our economic recovery in this COVID world we now live in. We are all doing a crash course in using technology in our everyday work and business as a result of the pandemic. Our future prosperity as a nation will depend a great deal on technology and how we use it. This important piece of technology infrastructure will provide our people with better opportunities to climb the technology ladder and fast track the growth of our knowledge economy."
Phill Henderson, CEO Vodafone Cook Islands, said: "This is a significant achievement for Manatua and ACL and we are excited about the opportunities that the cable connectivity opens up for our customers. These are commercially challenging times for all of us particularly when entering into multi-year multimillion dollar agreements, however the Manatua cable positions us well as we continue our push in taking the Cook Islands into a new digital society. Vodafone is pleased to be the anchor customer and the first to use the Manatua service commercially. We can now leverage the improved performance of the Cable system to provide a better customer experience and will be advising customers of the benefits that the additional Manatua capacity will provide."
Dr Ranulf Scarbrough, CEO Avaroa Cable and co-chair of the Manatua Cable Consortium said: "It's been fantastic to help Vodafone bring the power of the Manatua cable to their customers on Aitutaki and for Aitutakians to be the first to benefit from this massive regional investment. And this is only just the first step. The deal is a major commitment from Vodafone at an incredibly challenging time globally. It shows a bold pledge to the transformation of telecommunications in the Cook Islands, with ACL's cable connectivity firmly at the heart of their plans. It's a fantastic endorsement of the ACL team and this new Cook Islands company."
Michael Henry, chair of Cook Islands Investment Company and Aitutaki resident: "This is a welcome boost to the internet service on Aitutaki. It seems like just yesterday that the cable ship landed Manatua here on the island, yet here we are with our nation's digital transformation already starting right here. It's a proud and exciting moment for all of Aitutaki."