Azeire picks up Irish offshore license extension
Azeire, an Ireland-focused oil and gas exploration company backed by Seacrest Capital, has been awarded an extension of a frontier exploration license (FEL) and a conversion of a license option to an FEL.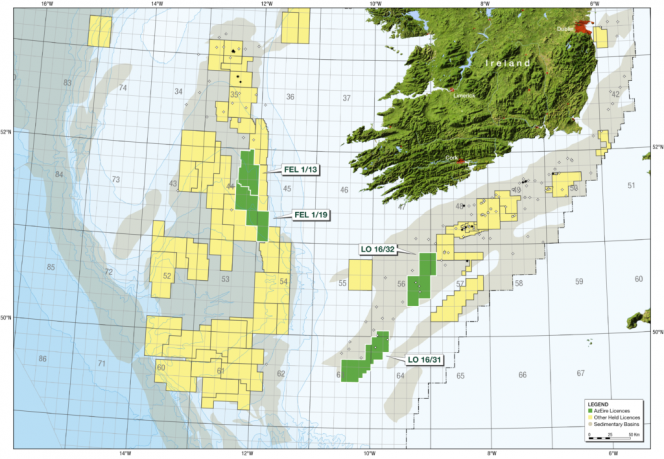 ---
Azeire said on Thursday that the Irish Minister of State at the Department of Communications, Climate Actions, and Environment had approved the extension of FEL 1/13 for two years, and the conversion of LO 16/17 to FEL 1/19, beginning on February 1, 2019.
The company has 100% operated license interests over acreage totaling 5,708 square kilometers.
Azeire was awarded LO 16/17 covering blocks 44/14P, 44/15P, 44/19, 44/20, 44/25, 45/21, 45/26a in the 2015 Atlantic Margin Licensing Round and acquired its interest in FEL 1/13 in 2016, through its acquisition of the entire share capital in Antrim Exploration Ireland.
"These recent extension and conversion awards in the Porcupine basin, together with Azeire's existing LOs in the FastNet and North Celtic Sea basins ideally position Azeire's portfolio to benefit from the insights expected to be derived from a number of planned upcoming wells to be drilled in the region," the company stated.
Diz Mackewn, director of Azeire, added: "We are very pleased to be able to take these two highly prospective adjacent licenses forward with a view to determining drillable prospects within the new license periods.
"These FELs cover 2,552km2 along the eastern side of the Porcupine Basin in an area which is due to see increased drilling activity. This includes the planned drilling of the Iolar prospect by Nexen Petroleum and partners in 2019, and then potentially followed by an exciting Dunquin South well, which is adjacent and downdip from FEL 1/13 and FEL 1/19 and is reportedly being considered by the Eni-operated partnership.
"We have a considerable 3D seismic database which covers a large proportion of these two licenses. We have already managed to achieve significant quality uplift through data reprocessing, with more still planned."
Related news
List of related news articles