Blue ammonia to be abundantly available for maritime industry by 2027, says Maersk Mc-Kinney Moller Center
Blue ammonia, an attractive fuel for the maritime industry, is expected to become available in significant quantities by 2027, with the potential for significant scale-up in production over subsequent years, according to a recent report by Maersk Mc-Kinney Moller Center for Zero Carbon Shipping.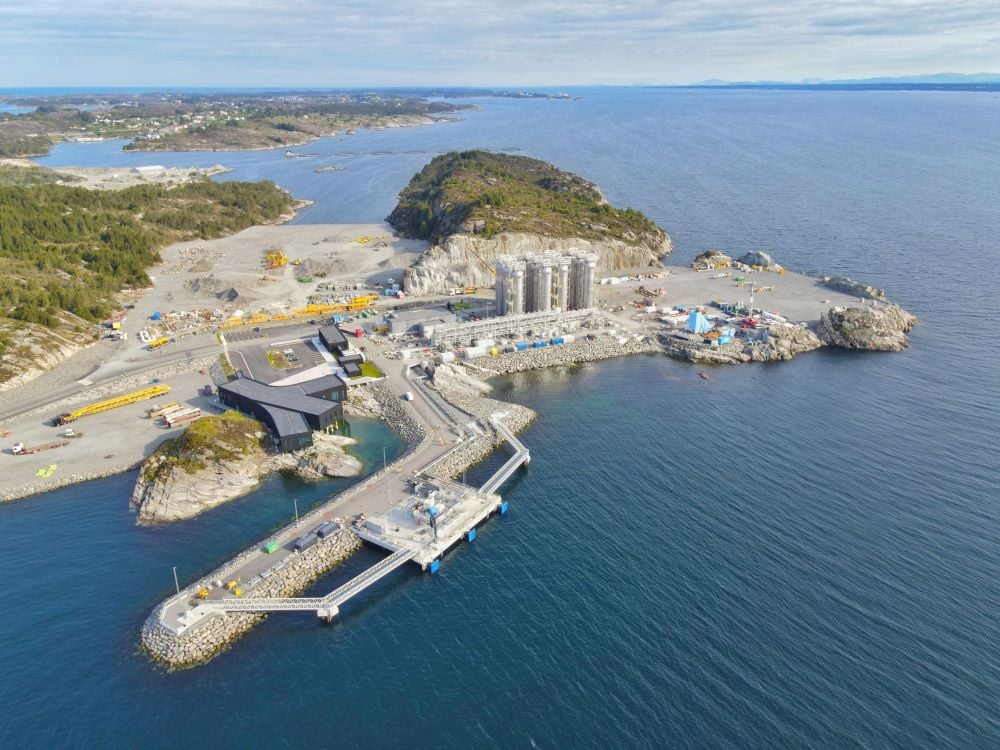 The report titled 'Will CO2 storage limit blue fuel availability for the maritime industry?,' researched cost structures, planned projects, market drivers, regional policies, and barriers to scaling. The research was carried out in collaboration with bp, CF Industries, Equinor, Sumitomo Corporation, NYK, and TotalEnergies. The Environmental Defense Fund (EDF), a knowledge partner to MMMCZCS, and Global CCS Institute also contributed to the project.
Blue ammonia pathway
The attractiveness of blue ammonia lies in its ability to scale up quickly using existing technologies and low production costs compared to other low-emission fuels.
Specifically, unsubsidized e-fuels are likely to be too costly while biofuels lack the necessary feedstock such as biomass supply to scale up quickly.
2030 is a relevant milestone year for the maritime industry on its decarbonization journey by 2050, therefore it is imperative for the sector to start its fuel transition in the current decade and start building ships prepared to use low-emission fuels.
Utilizing the blue ammonia fuel pathway could overcome the current limitations faced by alternative fuels and de-risk investments in onboard technology, because the technology readiness level for producing blue ammonia is high, the energy feedstock price has been low historically, and plant capacities are already high enough to enable economic scaling.
Conventional ammonia plants with a production capacity of one million tonnes p.a. are in operation today. Multiple blue ammonia plants of this capacity are now being developed, with a large expansion in blue ammonia production capacity expected over the next 5 to 10 years.
Therefore, if ships can be built ready for propulsion by ammonia, then blue ammonia presents an opportunity for a lower-cost and quicker-scaling fuel than most alternatives.
Blue ammonia is produced from natural gas, but carbon capture and storage (CCS) is used to capture, transport, and permanently sequester the CO2 byproduct, thereby yielding a fuel with low well-to-wake emissions.
Carbon Capture
Looking at the current situation, the carbon storage availability will have to increase significantly to enable the production of blue ammonia at a scale to make it a viable fuel option to decarbonize the maritime industry.
Maersk Mc-Kinney Moller Center estimates that 34 million tonnes of blue ammonia per year will be needed for the maritime industry by 2030 to meet its decarbonization goals.
For this amount of blue ammonia, the required CO2 storage would also be approximately 50 million tonnes per year.
However, there is already a gap in supply as producing 34 million tonnes of blue ammonia would consume more than the current global annual CO2 storage, which stands at approximately 40 million tonnes per year.
Nevertheless, the long-term theoretical global resources for CO2 storage are exceedingly large, with the total estimated resource standing at 13,954 billion tonnes of CO2, more storage capacity than humanity would ever need. Furthermore, 4.1% (577 billion tonnes) of these storage resources have been proven technically with subsurface data such as well and seismic surveys, which is also sufficient to meet storage needs, the report said.
There has been dramatic growth in planned CO2 transport and storage capacity during 2021 and 2022, with planned CO2 storage projects approaching one billion tonnes per year.
Of these project announcements, more than 600 million tonnes per year are planned to be in operation by 2030. The Global CCS Institute reported that as of September 2022 there were 244 million tonnes per year of CO2 storage in development, with approximately 110 million tonnes per year in either construction or advanced development.
With the dramatic expansion of the global CO2 transport and storage capacity in store for the next few years, the report concludes that the CO2 storage capacity is not expected to prevent blue fuel availability from meeting the anticipated demand from the maritime industry by 2030, even if a portion of these are delayed or canceled.
"Our findings showed that global CO2 transport and storage capacity is expected to expand dramatically over the next few years. As a result, CO2 storage capacity will not prevent blue fuel availability from meeting the anticipated demand from the maritime industry by 2030," the report reads.
"Most of the expansion in CO2 storage by 2030 is likely to come from regional hub projects serving multiple industries and emitter sites, rather than single sites with individually dedicated storage. This arrangement is beneficial, as it allows the infrastructure development costs to be shared and drives down the cost per tonne of CO2 storage."
Furthermore, regulatory barriers to increasing CO2 storage appear to be surmountable on a global scale, the center added.
Several countries expected to be key to large-scale blue fuel production have already established supportive national policies and incentives for CCS. Characterization, permitting, planning, and construction of new CO2 storage sites can take several years, resulting in a time delay in establishing new capacity. Nevertheless, areas with established oil and gas production generally have well- characterized geology, which can help to reduce the characterization and permitting times.
These areas include North America, the Arabian Gulf, Norway, Australia, and Southeast Asia.
"We expect blue fuel production locations to be concentrated in areas with access to low-cost natural gas and CO2 storage. As a result, we analyzed the suitability for blue fuel production of each of the major gas exporting countries/regions and identified several countries/regions most suitable for blue fuel production. We also estimated likely production costs for blue ammonia in each of these regions, which range from 480 to 600 USD/t, excluding the impact of tax incentives. Overall, our analysis indicates that CO2 storage capacity is unlikely to constrain the availability of blue ammonia for shipping by 2030."
In conclusion, with blue ammonia projects currently progressing, it is expected that around eight million tonnes per year would be available by 2027 to 2028.
Furthermore, new projects continue to be announced regularly. The upcoming supply growth reflects policy drivers, with existing ammonia producers recognizing that an emerging market for low-carbon ammonia will present a new market opportunity beyond the traditional driver of fertilizer to accommodate population growth.
Initial blue ammonia development projects aim to meet the announced Japanese and South Korean targets for co-firing ammonia in thermal power stations. Demand from shipping and as a low-carbon hydrogen carrier is an additional incentive. Both Japan and South Korea have ambitions to import three million tonnes per year of blue ammonia by 2030 to reduce CO2 emissions. Both countries intend to increase this consumption significantly beyond 2030.
Furthermore, MMMCZCS analyses indicate a rapid expansion in demand for blue ammonia as a shipping fuel from the late 2020s.
"The rate of development of further blue fuel production capacity beyond 2030 will be determined by how quickly the demand for blue fuels develops. The time lag to develop new blue ammonia projects is typically 4-5 years. Therefore, the shipping industry will need to demonstrate concrete steps to adopt ammonia as a fuel to encourage new investment decisions in blue fuel production," the report said.